Between April 7-9, Michael Stelzner and his team at Social Media Examiner put on their first live conference, held in beautiful San Diego: Social Media Marketing World event. Or #SMMW13 if you are active on Twitter or Google+, where this hashtag was amongst the trending ones during the two-day conference.
Over 1,100 attendees from around the world flew in to mingle and learn from top-notch speakers. Having attended various Social Media Examiner webinars and summits in the past, I thought it would be interesting to attend this first-time real event and network IRL – in real life!
THE GOOD
Venue
The event was held at the Marriott Marquis by the harbor, just next to the San Diego Convention center. Fabulous spot, just a block away from the Gas Light District, where I actually stayed – I opted to sleep at the Hard Rock Hotel, awesome place if you ask!
Everything was within walking distance, the ballroom could accommodate everyone rather comfortably during keynote sessions and lunches, while the breakout sessions were held in rooms that seemed big enough in most instances.
People
It's tough to describe the typical attendee, as there was a mix bag of senior levels and students, social media savvy and rookies, marketers and entrepreneurs. One thing in common: everyone came to learn, network and have fun. This being California, it was very laid back, making it that much easier to connect with folks from East coast or West, Mexico or Australia.
Networking
There were two "official" events, the Sunday evening at the Natural History Museum, and the Monday evening on a chartered yacht circling around the Bay. While both events were great, my preferred networking came from smaller-sized occasions.
Mike "Ambassador" Bruny hosted morning walks, which was a great way to meet folks and chat in a very informal setting. And on the Monday evening, a bunch a folks from the travel & hospitality industry met for dinner and we had great discussions, there. Not to mention all the discussions during lunch times, coffee breaks or by the bar. I've got a load of business cards and some serious follow-up to do upon my return…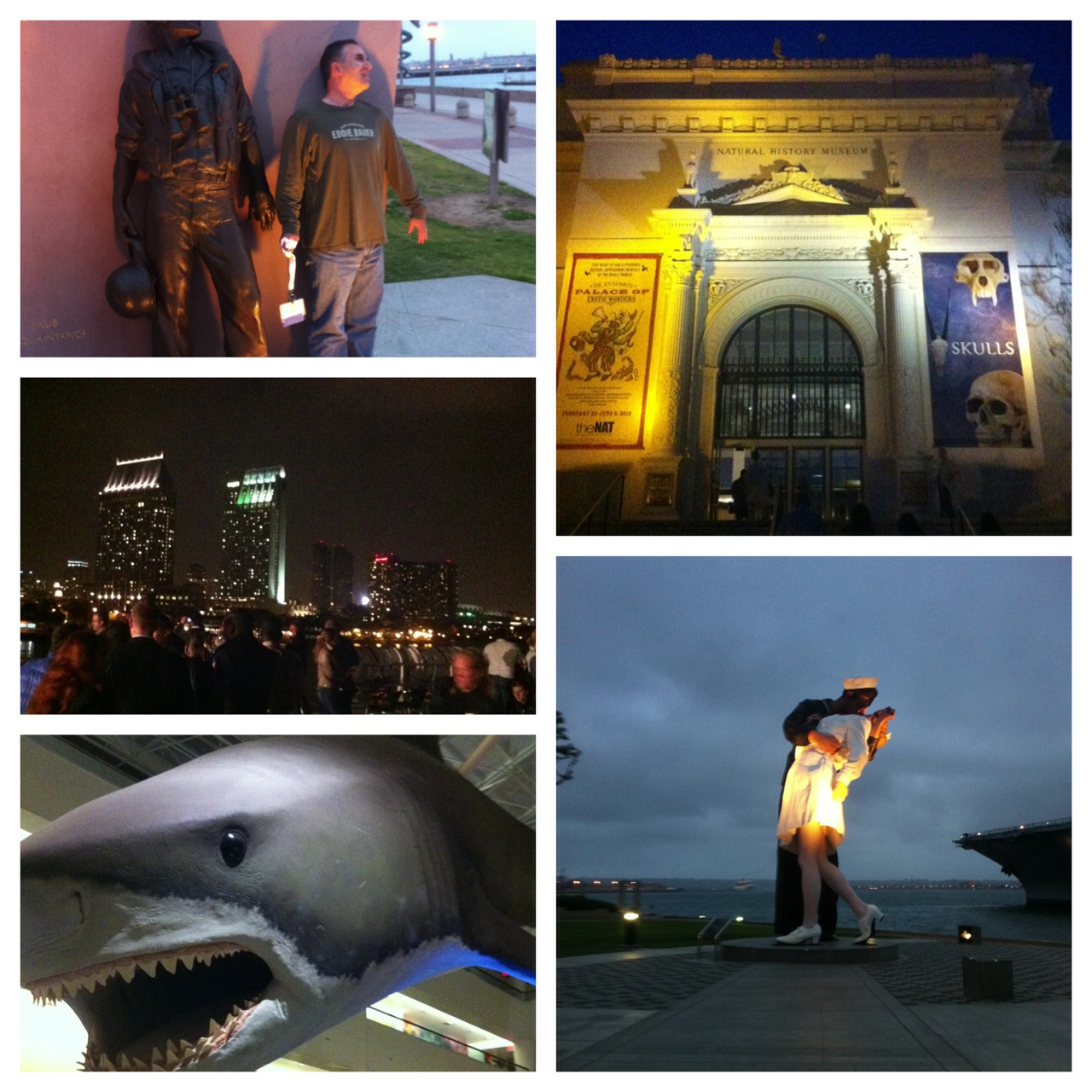 Discussion groups
Gotta give credit to SME for creating a very lively Facebook page as well as a private Linkedin group, where we could connect before, during and, hopefully, after the event. It's actually through a Linkedin discussion thread that we got a group of travel marketers together. Great idea that more events ought to piggyback on.
Keynotes
Many presentations were good, some where pretty good. But the keynotes? Awesome! I particularly enjoyed Sally Hogshead's fascinating presentation, and a special mention to Dave Kerpen's final keynote, which brought a tear to my eye – gotta find that 3-minutes video showcasing a "storytelling" example. Powerful!
THE BAD
Uneven sessions
It's bound to happen when you have a roster of so many presentations, but I was somewhat disappointed by some of the sessions I attended. I won't mention any names, it's just not my style – besides, it's a matter of opinion: I may think a presentation was ordinary while the person besides me was blown away.
It may also be because I've attended previous SME content marketing, Facebook and social media summits, so some of the content seemed redundant. On the other hands, many presenters were really excellent, including Chris Brogan, Melanie Duncan and Mark Schaefer, among others.
Agenda
I've been to many conferences in the past, and you often have to choose between two tracks, sometimes three. But four? And sometimes five? Perhaps there is a need to prioritize here, because it just creates frustration. Or the mandatory requirement to purchase a virtual ticket. See next point.
Virtual ticket
Hmm. Many folks I spoke to were not pleased about this. You see, when I booked for this conference, it was back in November as part of the super-early bird promotion. It was said that the "only way to experience this conference would be in person". So once you book your airfare, hotels and register for the event, you find out there is actually a virtual ticket available for it all. And it's not included in the price of the conference!
Now, don't get me wrong, I totally dig that the networking and schmoozing that takes place during the event has a price tag attached to it, but knowing there is a virtual ticket for this, will I come again next year? Perhaps. I know of a few folks who said they would not, though. When you come all the way from Australia, I can understand.
Food
Hey, I'm French-Canadian and we take our dining seriously. Sandwiches and burgers only go so far, same with pop-corn and pretzels. Fortunately, we had a great dinner at the Fish market on the Monday evening, and I also experienced another local restaurant near the Hard Rock hotel. Delicious!
THE UGLY
Technology
How ironic that one attends a social media conference where one cannot tweet, post or share on one's preferred social media! The wifi was just horrible, working on & off. Some folks worked around this one by using their smartphone as a network device, but this was just not an option for me, what with international roaming fees and all!
And there were numerous technological hick-ups during keynotes and breakout sessions. Nothing to deter the quality of the overall content, but certainly annoying in various instances.
Conclusion
So there you have it. As you can tell from the above, the balance clearly steers towards the positive and I would recommend friends and colleagues to attend this show next year as it's been confirmed: there will be a second edition in 2014, in San Diego again.
I did learn new things and meet new friends, so I look forward to sharing some of the content in coming weeks here on this blog. And knowing this was a first edition, one would think things will be tweaked and adjusted for next year, which promises to be even better. Will I be there? Probably. As a speaker? If they ask me, sure… 😉
Did you attend the event or have heard from friends about it? Please share your stories below, I would love to hear from you.