Not a day goes by when I don't see or read an article about a magazine or newspaper laying off staff, when it's not an outright closure or bankruptcy. In most cases, if not all, we hear about how these organizations did not or could not adapt to the digital shift in content and in particular when it comes to advertising.
The graphic below shows this clearly, as we see the shift in total ad spend in the US between 2014 and 2018.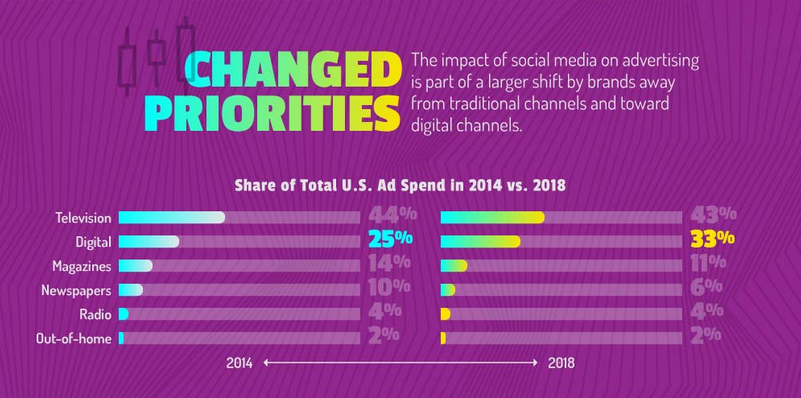 Notice how television, radio and out-of-home (billboards) have been somewhat stable, but print media like magazines and newspapers have lost steam which was picked up by digital media, where a third of all ad budgets now go.
Social Media Is Where Travelers Are
While Google is still the behemoth in the digital marketing sphere, taking anywhere between 40-60% of the worldwide ad spend online, social media is where we can reach travelers before, during and after the travel occurs. Thus, it's interesting to see where travel marketers tend to spend the most.
According to the 2018 SproutSocial Index Report, we find out not too unsurprisingly that Facebook remains at the heart of most marketing campaigns. 83% of social marketers say they buy ads on Facebook, which aligns with the 94% of consumers who say they use the platform.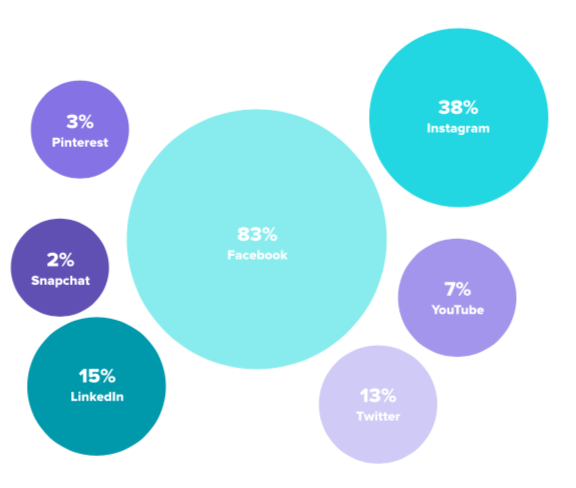 Notice how Instagram is blowing Snapchat completely out of the advertising equation. Same can be said by looking at social media marketer usership where, according to SproutSocial, 83% of social marketers use Instagram versus only 13% that use Snapchat!
Click here to download the Sprout Social Index 2018 Report
Check out the complete infographic below, created by MDG Advertising, on how social media has changed the ad game. Travel brands must take notice and act accordingly – it's a fast-changing environment!