Every year, the folks at We Are Social compile insane amounts of stats and data about web usage, mobile and social media penetration across the globe.
They recently released the 2017 edition of this study in collaboration with Hootsuite, and once again some of the findings are simply dumbfounding!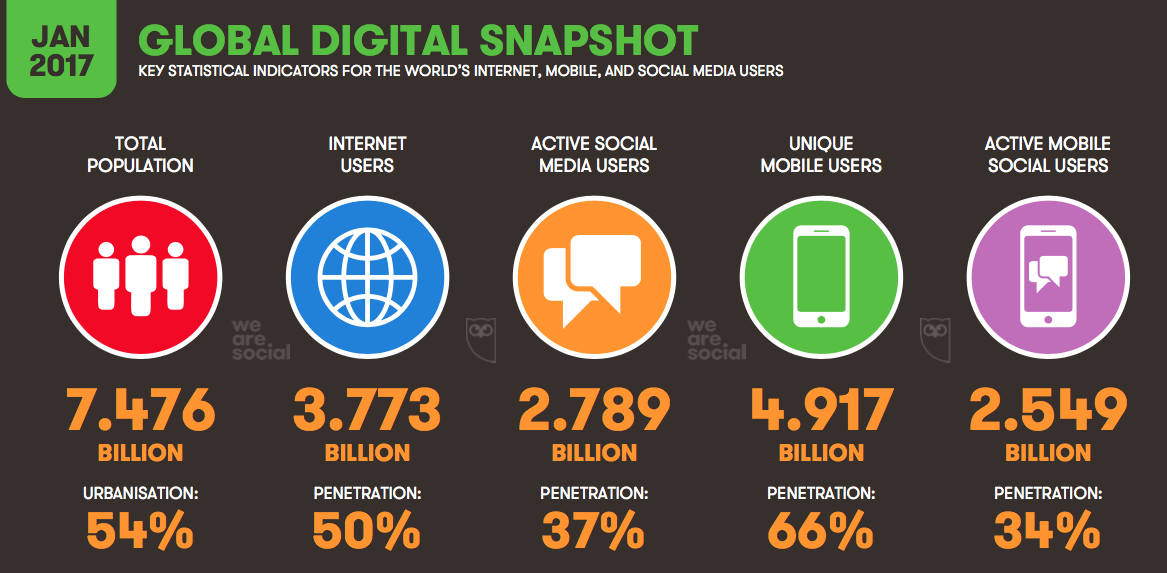 For example, did you know that:
There are now 3.77 billion internet users across the globe, which represents 50% of the Earth population
2/3 of all humans are now mobile users, with 4.9 billion users around the world
We now have 2.8 billion active social media users, which represents a 21% increase (+482 million) over January 2016
The highest penetration of internet users compared to the population is in North America, with 88%. The lowest penetration? In Africa, with only 29% of the population having internet access.
In Canada, we spend on average 1:47 hours per day on social media, which is better than in Japan (0:40 hours) but a lot less than in the Philippines (4:17 hours)!
The study goes on to breakdown web usage, social media and mobile activity per region and per country in this lengthy document that can be consulted via slideshare below.

Key Learnings For Travel Brands
There are a few really important insights stemming from this report, for all industries alike. But allow me to highlight those that will most likely impact travel brands in 2017 and beyond:
Organic reach will continue to decline for brands. Pay-to-play will thus become the norm, at least on key social media like Facebook and Instagram, and brands will rely more and more on social advertising to reach their audience.
Social video advertising will be a key strategic focus for brands – especially on Facebook, Snapchat, Instagram and Periscope. According to Hootsuite, 70% of marketers plan to use social video advertising in the next 12 months.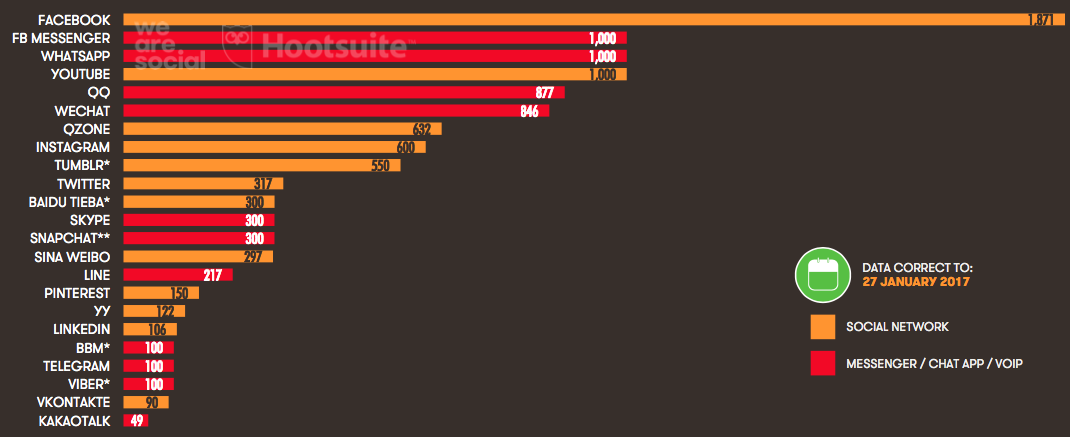 Social catches up with search for discovery. In travel, search is still king for helping consumers research and evaluate destinations, hotels or transportation options, but social is starting to rival search for discovery, especially among Millenials.
Dark social rising. Dark social is gaining ground, in great part due to increasing mobile and messaging adoption rates. Dark social is critical for marketers to understand, as if you only track social traffic with traditional web analytics, you're drastically underreporting the value that social delivers to your business.
Read also: The Impact of Dark Social in Travel Marketing
I leave you with this excellent summary by Hootsuite regarding the five key social platforms, and how brands ought to approach each one of them. Does that fit with your strategy?