In case you hadn't noticed, Halloween decorations have been put away which means it's that time of year when the hospitality industry is abuzz with two of its biggest upcoming travel periods: American Thanksgiving and the Holiday Season (Christmas & New Year).
Airports and the overall transportation infrastructure get quite hectic around Thanksgiving as family members spread out across various cities and states travel home for this traditional gathering. From a business standpoint, it marks the bonanza of Black Friday, Cyber Monday and various sales that foretell the kind of Christmas season retailers can expect.
Yet, for the travel industry, the big story revolves around the Holiday Season, which will be around in six weeks only. So, is it too late to plan a travel marketing campaign for hotels and destinations vying travelers during this lucrative season?
50% of Travelers Have Not Made Plans Yet
Contrary to popular belief, it appears that a vast majority of travelers still have not yet made up their plans for this upcoming Holiday Season. According to a recent ADARA report that came out two weeks ago, looking at search and booking patterns from travelers prior to the 2014 Holiday Season, we can see that solo travelers, couple and families (3+ people) share similar behaviors tending towards last-minute booking.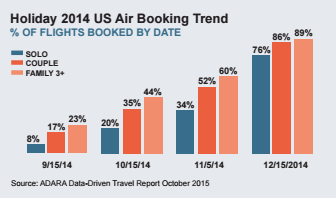 Looking at the above chart, and extrapolating to similar behaviors in 2015, the report finds that by mid-November 60% of families will have already booked the air portion of their trip, but only 34% of solo travelers.
In other words, plenty of potential to change the minds of solo and couple travelers with regards to their destination of choice, since flights are usually the first and most determinant element of a travel package.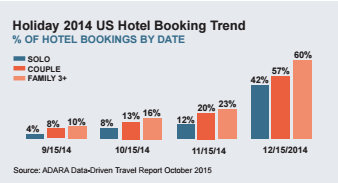 Where the ADARA research sheds some interesting insights relates to hotel booking patterns, which reveal an even more last-minute trend for all types of travelers in the US. As can be seen in this second chart above, even by mid-December there should still be quite a bit of decision-making yet to be done, again most particularly with solo travelers and couples.
Of course, these patterns can and will vary depending on flight distances, the destinations (within US or international) and other variable explained in the report. However, we can summarize the noteworthy findings as:
Half of US travelers still have not yet booked their flights for the Holiday by mid-November;
Half of US travelers still have not yet booked their hotels for the Holidays by mid-December.
Click here for the Holiday 2015 Travel Prediction Report by ADARA
The Early Bird Still Gets The Worm
So for both travel destinations and hoteliers alike, the above mentioned report leads us to believe that we can wait until the last-minute to influence and impact the decision-making of potential travelers. That would obviously be a mistake.
It's not because solo travelers, couples or families have not yet booked their trip that they have not yet made up their mind. Or that they are already thinking of a destination in particular. And more importantly, as travel marketers we need to plant the seed as early as possible upstream of the decision-making process.
Then reiterate the message regarding destination appeal, accommodation offers and attractions of choice – things to see and do during the Holiday or other key moments during the upcoming winter season.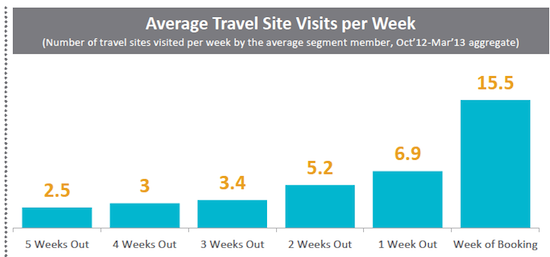 Back in 2013, Expedia Media Solutions conducted an interesting research looking at how travelers search and book a travel package online. It was found that in the US, average travelers visited 38 travel sites during a 5-week period before booking a package.
Some sites get visited multiple times
Now, this doesn't mean these are all different sites – in fact, we tend to go TripAdvisor a few times, check out major OTA (Expedia, Booking), airlines and hotels sites, and so on. A similar study was done in the UK a year later, where it was found that UK average travelers visited 35 travel sites, but with slightly different patterns.
Read: How Buying Travel Packages Differ: US vs UK
The key learning from the chart shown above? The more we wait until last-minute to engage with potential customers, the busier it gets and the noisier it is – and more expensive it gets to cut through the clutter, one would suspect.
Thus, sending out exclusive deals or promotional offers to loyal customers or potential new ones at least five weeks out can help travel brands bypass this obvious trend for last-minute decision-making.
In order words, it's not too late to start marketing for this Holiday Season. But don't wait too much, as your competitors are most likely active trying to crack that ever-elusive travel booking pattern code…