When it comes to social media, there is no hotter platform right now than TikTok. This extremely popular mobile app has been making headlines for the past months, partly due to privacy concerns since it is owned by Chinese company ByteDance.
Launched in China in 2016, where it operates under the name Douyin, the application became even more of a sensation after acquiring Musical.ly in 2017.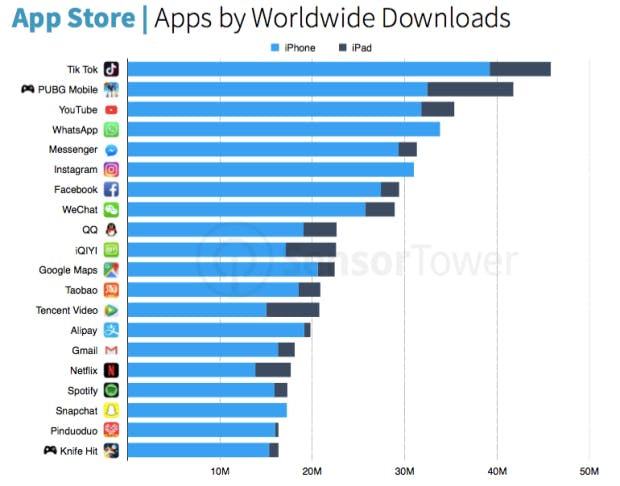 So why should travel and hospitality marketers bother with this phenomenon? Here are a few incredible stats to bear in mind:
TikTok has now been dowloaded over 1.5 billion times!
In Q4 2019, in fact, it was the most downloaded app worldwide on both Google Play and Apple App Store;
There are more than 600 million monthly active users;
TikTok boasts more than 150 million daily active users;
Average user spends 52 minutes per day on the platform!
66% of worldwide users are under the age of 30;
In the US, 60% of active users are 16-24 year-olds;
The hashtag #tiktoktravel had 6.2 billion views as of December 2019;
Leading countries with most TikTok users: China, USA, India, South Korea;
Average engagement rate on TikTok is 29%
TikTok is the only top 5 worldwide mobile app… not owned by Facebook! (Facebook, Messenger, Instagram, Whatsapp are the other four)
While stats paint an interesting picture, the platform becomes even more compelling for travel brands once they understand its algorithm and content creation potential. So here are five reasons why I believe TikTok matters for travel marketers.
Create unique content
Simply put, TikTok can be addictive. Its algorithm is very efficient in showing users what they like, based on time spent watching different types of content and what users have liked. From funny dance choreography to pranks to beauty shots and tutorials, pretty much anything goes on here.
But just like Snapchat innovated with its original lenses and face swap features, TikTok combines efficiently images with popular music, creating unique content that can be either consumed on its platform… or shared back on Instagram, Facebook or wherever a brand may want to show it!
Hotel ACTIVE(@hotelactive) has created a short video on TikTok with music #FreuDichHart. Selbstgemachte Milchschnitte als Dessert?😋 #weihnachtsessen #theactiveway
On TikTok, users create short videos ranging between 15 and 60 seconds, on which you can add text, special effects and music. It's that simple combination that makes for compelling content that users consume, like and share away like crazy.
That video above from Hotel Active? At the time of writing this article, it had received over 457,800 views, was liked by almost 7,000 users with hundreds of share and comments!
Any mountain resort would certainly want to share, reshare or create similar to that of this TikTok user below, inviting more riders to discover its terrain…
Jacqueline Petitjean(@jacpetitjean) has created a short video on TikTok with music Sweet Dreams (A cappella). Our sweet escape #totheleft #winterishere #snowday #skiing #skibum @poshspice6969
Users can also publish original posts with already-made templates, from Christmas Holidays to pixel effects to recent trips. I used the travel template to come up with this TikTok, a great opportunity for destinations and hotels alike to eventually push forward their brands on the platform – no news of monetization available on this front yet, though.
Monitor Relevant Hashtags
Destinations Marketing Organizations will no doubt jump on this opportunity, but it's safe to say there hasn't been much action (yet) on TikTok for DMOs globally. One of the most popular hashtags to follow happens to be #TikTokTravel, which can then be adapted per country, for example #TikTokThailand or #TikTokAustralia.
The caveat here is that these latter hashtags would not be "travel" specific per se, but can provide some pretty awesome content nevertheless.
Talia A(@nataliea37) has created a short video on TikTok with music Hymn for the Weekend – Seeb Remix. My hometown . #jasper #rockymountains #canada #fyp #foryoupage #foryou #alberta #travel #tiktoktravel
Destinations, hotels and restaurants may want to also simply monitor what content is being created and shared with a hashtag specific to their city, area, state or province.
In 2019, TikTok partnered with the folks at Kerala Tourism in a funky campaign that yielded tremendous results with its #YehMaraIndia campaign to showcase India's most exciting travel destinations.
Ride the Challenge wave
Did you hear about Jimmy Fallon, on the Tonight Show, and his #TumbleweedChallenge ? Back in November 2018, he challenged his audience to roll over and and act as a tumbleweed, garning over 8,000 videos and more than 10.5 million engagements… in less than a week! Challenges are red hot on TikTok, with over 25.7 billion views as of December 2019.
Thus, it's no wonder that #TravelChallenge is a very popular hashtag with over 184M views and many folks simply mentioning this in their images and videos on TikTok. Companies like Contiki created a contest to get users to share away content and possibly win a trip around the world as official TikTok creator for this tour operator!
In other words, contests and viral hashtags work very well on TikTok, just like they tend to on most emerging popular platforms! I wonder which hotel company, destination or cruise line will be the first to launch a full-on, TikTok challenge… 😉
Frank Jimenez(@otisrex) has created a short video on TikTok with music original sound. The Swiss Alps 🇨🇭🏔😍 #switzerland #foryoupage #tiktoktravel #travelchallenge #foryou
Work with TikTok Influencers
Your brand may very well decide not to be on TikTok by managing yet another account and having to dedicate yet again more resources and content creation, but perhaps you should consider partnering with power users that have an considerable and engaged followers.
Influencers on TikTok are just like on Instagram, YouTube or any popular platform – many of them rose to popularity from scratch while others (celebrities) are here since it's the new place to be.
Loren Gray(@lorengray) has created a short video on TikTok with music Black Christmas In theaters Dec 13 Ho Ho Ho. ho ho ho bitch . #BlackChristmasMovie in theaters Dec 13 #Transformation #ad
Loren Gray(@lorengray) has created a short video on TikTok with music Black Christmas In theaters Dec 13. Ho ho bitch . #BlackChristmasMovie in theaters Dec 13 #Transformation #ad
Travel brands have been working with influencers, so this will not come as a surprise but rather another opportunity to get the message across, specially to younger audiences. In the example above, promoters for the movie "Black Christmas" partnered with Loren Gray, currently the most popular user on TikTok with almost 37M followers!
Read also: 5 reasons to work with an influencer
Think of TikTok as Vine 2.0 since, in many ways, storytelling often takes place in 15 seconds or less. In fact, many popular YouTubers who began their rise to fame on Vine… are now on TikTok, going full circle, if you will.
Expect more and more celebrities to move in shortly, just like Will Smith, Reese Witherspoon, Ronaldo and many more have in the recent past.
Reach younger audiences
Did you know that in 2020, Generation Z is going to make up 40% of the global population, commanding upwards of $40 billion in spending power? These are the folks born between 1995 and 2010, in other words… the majority of TikTok users!
And let's not forget the Millenials, who already surpassed Boomers and Generation X in terms of numbers in the workplace. In 2020, they are set to become officially more prevalent in senior management positions.
While Instagram, YouTube, Pinterest, Linkedin, Facebook, blogs and newsletters will still matter, emerging platforms like TikTok will certainly play a role in getting that message across in less corporate tone, resonating more with younger audiences that seek experiences, emotions and the unexpected.
Not sure what to do next? I will let Gary Vaynerchuk give you his $0.02 on what you ought to do to better understand the TikTok culture and get moving…
Gary Vaynerchuk (@garyvee) has created a short video on TikTok with music original sound. My $0.02 #garyvee #motivation #howto #tiktok #alwayshustling #fyp
Marketing and Advertising on TikTok
For now, TikTok remains a rather under-used platform from an advertising standpoint, but expect this to change quickly. It is possible to place ads in 20+ markets at this point, and more developments are on the way. Some folks say advertising and marketing will kill the edge factor, just like it did on Facebook, Instagram and other popular social media in their beginnings.
Monetization at some point becomes a requisite and TikTok will be no different. Already, brands like Adidas, Apple, Grubhub, Nike or Fenty Beauty have conducted successful campaigns. How long until we have hotels, destinations, cruise lines or restaurant chains active with TikTok ads, if it isn't the case already?