As a travel marketing expert, I often get questions from my circle of friends and relatives about where to find travel deals or which website or mobile app to choose to get insider tips or travel off the beaten path. I guess it makes sense, considering I have always worked in the travel industry and I specialize on the travel and hospitality marketing side of things.
Yet, many of my friends seem surprised, perhaps even shocked, when I tell them I like to use a travel agent whenever a trip gets too complicated. Apparently, I am not alone.
Skift recently reported that Millenials are more likelt to use travel agents than any other U.S. demographic, citing a recent study from the American Society of Travel Agents (ASTA). "Millennials are leading the way in travel agent usage," said ASTA president Zane Kerby. "30% have used a travel agent in the last 12 months, and they're also most likely to recommend agents to a friend."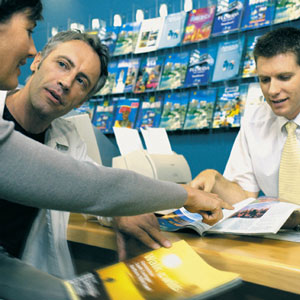 So why does anyone still bother to deal with a travel agent nowadays, when everything is supposedly available online, and everyone can be their own travel agent?
Here are four reasons why I believe travel agents still matter.
Time Is Money
When Google took a look at the typical customer journey to purchase in the digital travel ecosystem during the Holidays, it found the average user looking at 5 videos and 380 web page visits through 34 different searches taking place over a two months period.
That's more than 419 digital moments that took place, with an overwhelming proportion of 87% taking place over mobile devices.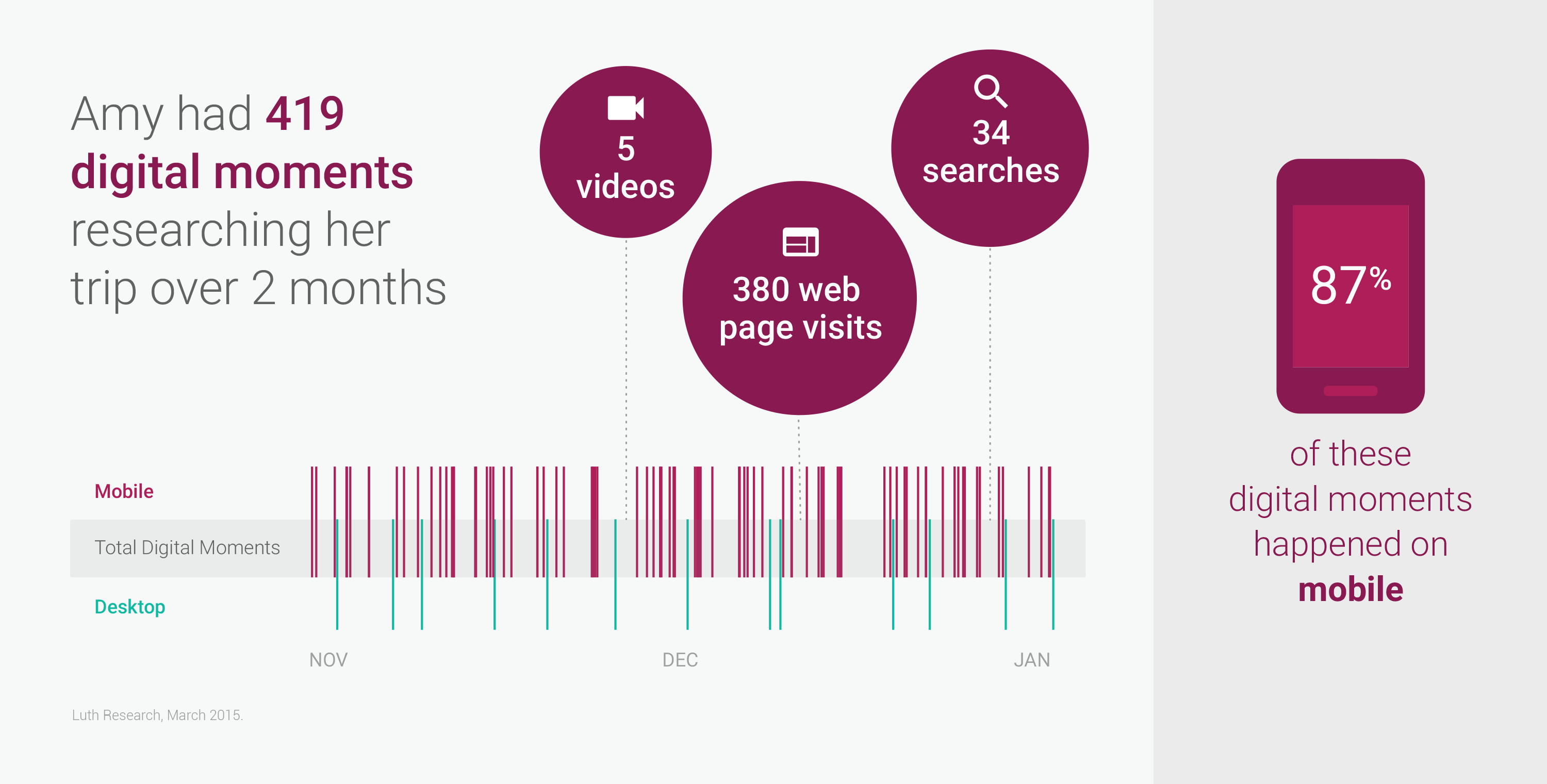 For the time-pressed customer, 419 digital moments (on average) can be too cumbersome and time consuming, and is something that can be easily delegated to someone who does this for a living. Which brings us to the next argument.
Expertise Is Key
Online travel agencies (OTA) such as Expedia, Priceline, Hotels.com, Booking, Orbitz or even meta-search engines like Trivago, Hipmunk or Kayak, were supposed to kill off brick-and-mortar travel agencies. Well, they certainly had an impact – in fact it is estimated that more than 50% of traditional agencies disappeared between 1996 and 2006.
Travel agencies that offered nothing special, added value or specific expertise in a given niche (cruises, rail tours, learning trips, etc.) are the ones that quickly died while the ones providing expertise are still around today.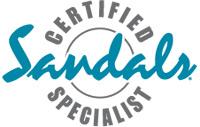 The fact of the matter is this: the more complex is a travel request, the more you should want to deal with a travel agent. There is no need, or very little, to get help from a travel agent if you are driving up to a nearby city and simply need a hotel for the night. OTA, review sites or even good old-fashioned travel information desks – when in season – can give you all the information you need to make your own booking.
But if you are traveling to Asia, with kids, during tropical rain season, and would like to take a special train journey while in Thailand or perhaps in Australia, where do you start your online search? And if you book your own journey, how sure are you that you did not forget an important detail (holiday visa, perhaps) or that you got the best deal and view on that cruise ship on the final leg of your trip?
That's why travel agencies regroup under labels, such as Virtuoso or AAA, where standards are higher and agents are required to train intensively and participate in educational tours more often than average norm for the industry. It's also why most destinations or specialty brands (cruises, Club Med, Sandals, etc.) have specialists program of their own.
Travel agents can't be expected to have every answer, but the good ones will go out of their way to seek those answers and refer to colleagues to make sure all components of a trip, whether it is for business or leisure, are locked in to customers' satisfaction.
Insurance & Security
This third point is perhaps the most intangible and yet most important one in any travel agent – customer relationship. When I deal with a travel agent, I not only want to save time and get niche expertise, more importantly I purchase peace of mind. Oh, so that small airline I was supposed to fly with has gone belly up? Well, gee, I will call my travel agent to ask for flight alternatives.
Wait, what, the hotel I was supposed to stay at for the week in my fancy Carribbean destination is oversold or – you've heard this one before – is still under construction? If you booked on Expedia, good luck. With a travel agent? Miracles don't happen every day, but at least you will have someone working hard for you to sort this out while you are sipping another Margarita.
Peace of mind is not a commodity nowadays, and this alone should be a reason enough to deal with a travel agent. Of course, to use up previous examples, your tolerance for risk might be higher for an overnight in a city during a business trip versus a three-week long family trip with complex components, at home or across the globe.
Human Touch
At the end of the day, travel remains a people business. We sell dreams, experiences, aspirations and inspiration. I can certainly find my way through travel blogs, social media, user-generated content platforms and review sites. It's what I do for a living, and I love it too.
Passion goes a long way, as they say. But for the reasons stated above, I still deal with a travel agent whenever an upcoming trip gets too complex or requires specific requests, transfers or dealings in an area where I have never been before.
In fact, this is what we are observing for travel agencies that have brick-and-mortar locations. These places are transforming themselves where customers and potential customers can have an experience before the trip even takes place.
Savvy travel agencies like Thomas Cook in Europe are banking on virtual reality to set the stage, while others are transforming their establishment into a destination of itself, with conferences, movies and talks about travel topics. All of these initiatives are meant to bring customers into the agency, discuss with agents and move onto a fruitful relationship that will go beyond the first transaction.
How about you? Do you all do it by yourself nowadays or do you prefer to stick with travel agents? I'd love to hear your thoughts in the comment section below.