Travelers increasingly turn to online channels to find inspiration on where to go and to compare different destinations. In fact, most recent studies show that:
65% of leisure travelers begin researching online before deciding where to travel to
72% of travelers research destinations online
66% of travelers research their holiday primarily online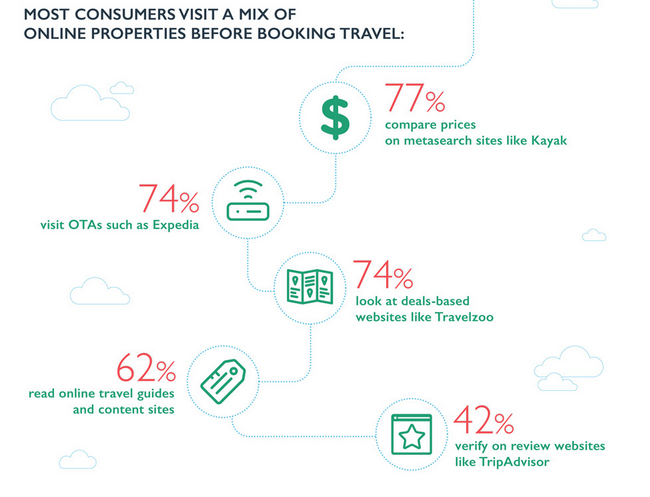 From Google Think to Expedia Media Solutions to PhoCusWright,  various research have repeatedly demonstrated this need for travel brands to not only have a strong online presence and respond to reviews across social media and OTA sites, but also to forge their own content marketing approach.
In this insightful infographic (see below), the folks at MDG Advertising highlight some of the key arguments behind why travel brands ought to create compelling content and keep their focus on this aspect of their online marketing in order to stay ahead of the curve.
Sources of Influence
I often hear some critics say brochures and traditional (offline) media are still important, as they influence parents, friends and colleagues, which represent the most trusted source for travel idea. Indeed, this may be the case but the truth of the matter we tend to interact more and more with friends and family via social media and mobile applications (Snapchat, Instagram, Facebook Messenger, etc.).
You will also notice that the #2 most trusted source for travel ideas is actually word-of-mouth (WOM). And where does WOM take place nowadays? You guessed it, mostly online.
Yes, it may also be on radio shows or TV, but there is no denying the impact of review sites such as TripAdvisor, Yelp or Gogobot, not to mention social media like Facebook where travelers can review hotels, restaurants or attraction and thus impact what is being said about a travel brand.
4 Keys To Creating Exceptional Content
So if you are wondering what are the four steps travel brands should follow to create exceptional content, here's a glimpse into what MDG developed in their ebook on the topic:
Visual: Provide Compelling Photos and Video
Mobile Friendly: Develop for Small Screens First
Strategic: Create Content for Every Journey Stage
Accessible: Go Beyond Your Own Platforms
Enjoy the infographic below, which outlines key data that underlines the four above strategies when it comes to creating a travel marketing content approach in travel.

Infographic by MDG Advertising
Read also: 5 Success Factors For Effective Storytelling in Travel
Save
Save