Photos and videos have become cornerstone to an effective online marketing strategy, and this is particularly true in travel and hospitality. We've all heard the expression about photos being worth a 1,000 words, but do we really know to which extent visual communication is powerful?
Recent studies found that:
Images are processed on average 60,000 times faster by the human brain than text
90% of all info transmitted to the brain is visual
Photos are 40% more likely to be shared than text, in particular on Facebook
People retain 80% of what they see, 20% of what they read, and 10% of what they hear!
According to a study conducted by Trivago this past September, there are apparently three types of photos that drive most engagement with leisure guests searching accommodation details:
Guest rooms
Restaurants
Recreational areas
Trivago also reminds us that photo dimensions must be adapted to the various devices used during the travel research process, from smartphones, to tablets and desktops.
Applying the CLEAR principle
For hotels, restaurants, attractions and other tourism stakeholders, photos are a core component of their marketing approach, both offline and online. Thus, it's important to take professional pictures and avoid basic mistakes, such as inserting text over photos, or taking photos of dirty rooms, or poorly lit rooms.
You may also want to avoid taking close-ups that are too close, and rather aim for higher resolutions by applying the CLEAR principle, detailed in the chart below: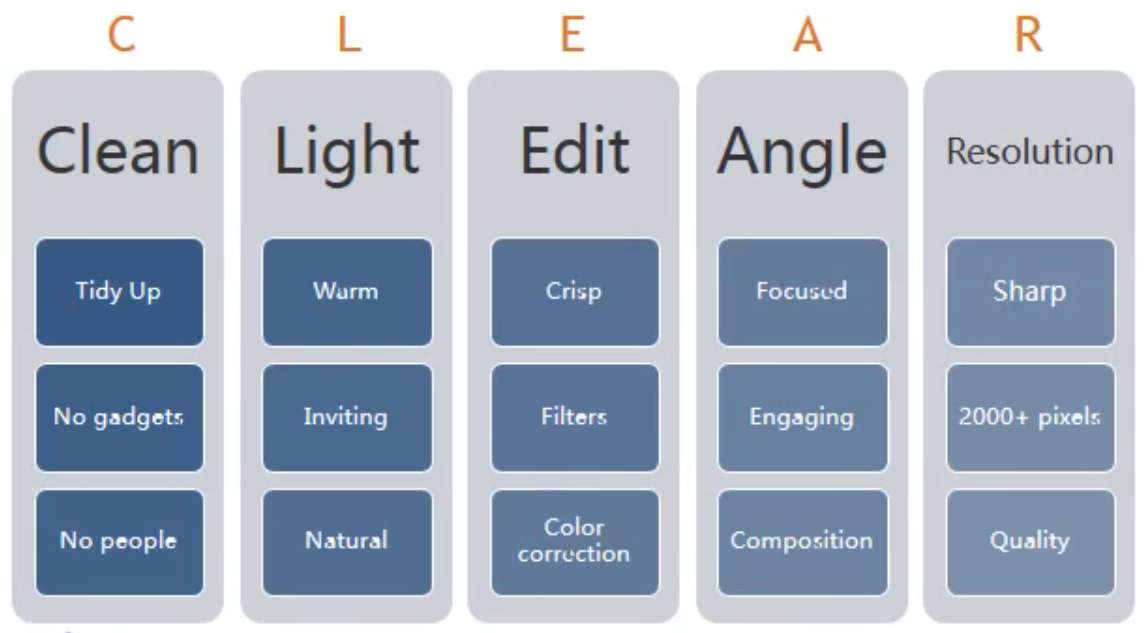 Trivago also provided a practical checklist of what consumers look for when shopping directly on travel suppliers website as well as online travel agencies (OTAs). Some key insights:
Include photos that are at least  2,000 pixels wide;
Choose a high resolution image as your property or brand's main image, or hero image as it's called on TripAdvisor;
Upload at least 20 photos, highlighting various aspects of what your hotel has to offer: restaurant, lobby, fitness room, meeting rooms, dining room, etc.
Distinctive features, unique to your property: outside view, best located room, regular room, at least one common area (living room, kitchen, etc.)
Stay away from picture that won't age so well, that are dated or too closely associated with a special event in the past.
Impact on decision making

We already know that 53% of TripAdvisor users won't book a hotel that has no reviews, but it seems photos have an even more powerful influence, not only in terms of generating traveler engagement but more importantly in generating booking inquiries. In fact, compared to hotels without any photo:
Properties with at least one photo see an increase of +138% in travel engagement
Hotels with more than 100 photos see an increase of +151% in travel engagement
Properties with more than 1,000 photos see an increase of +203% in travel engagement
These findings make sense, since one would assume a traveler spends more time looking at photos and videos on a hotel or B&B page if there are more photos to begin with. What's even more interesting is to find out this actually leads to more booking inquiries! In fact, compared to properties that have no photos:
Properties with at least one photo have +225% more likelihood of booking inquiry
Properties with more than 100 photos have +238% more likelihood of booking inquiry.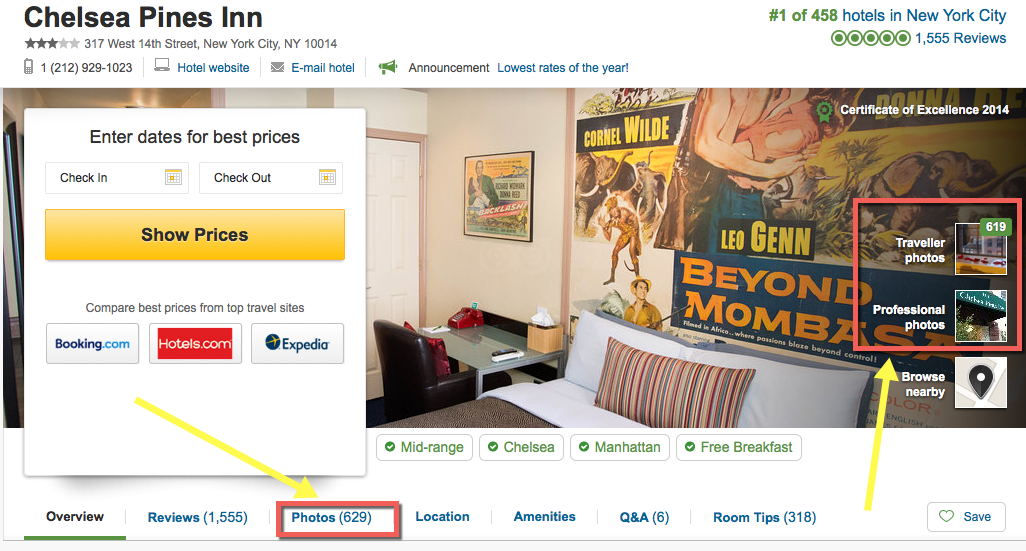 Notice that when searching for hotels in New York City, the #1 ranked property is also one that features a lot of photos, in particular ones shared by the community of travelers.
Good pictures help selling
This confirms the fact that, while we appreciate professional photography shared by hoteliers, restaurateurs and attractions management, travelers want to also see photos taken by other travelers, featuring real people in real-life situations. There needs to be a savvy blend of professional and amateur photos, to properly reflect the reality of a given travel brand.
Read: Photos Impact Bookings More Than Reviews
Professional photos are not just for hotels and restaurants, though. Transportation specialist Rome2Rio recently shared similar findings after integrating photos in its cruise, train, bus and other sections when people search its site.
You may have heard of the brand new Dreamliner 787, right? But have your ever seen it? If you are going to choose a cruise, wouldn't you want to see the cabin you will be staying it? Or choose what kind of ferry or bus seating you may get in some remote country you are less familiar with?
The Importance of Color Choice

Last but not least, the colors you choose, from your website to brochures to corporate logos, also tell a story about your brand. The infographic below highlights the importance to choose wisely between the various colors, depending on the message you wish to make.
This should be taken into consideration when taking pictures or sharing videos on your owned media but as well on shared networks such as Instagram, Pinterest, YouTube or Facebook.

How important are photos in your travel marketing strategy and how are you integrating them across your various media? Let me know by commenting in the section below.