According to a new travel marketing case study published today by TripAdvisor, it would seem like photos have the greatest impact driving engagement from travelers researching on hotel and B&B pages on the world's biggest travel review site.
The study, based on a sample from 25 of the most reviewed cities in the world, analyzed data including the number of reviews, management responses to reviews, photos and videos from hotels and B&B pages to reveal which factors have the greatest influence on travelers leading to booking inquiries.
With over 170 million reviews and 280 million unique visitors to its website, TripAdvisor is a huge player in the travel and hospitality industry. Debunking somewhat the myth that reviews have the ultimate influence, this new study shows for the very first time that photos actually have the biggest impact for traveler engagement (defined as page views per session and booking inquiries) on hotel or B&B pages.
Ranked by level of impact on traveler engagement:
Number of photos
Total number of reviews
Management responses in the past year
Number of reviews in the past year
Read also: How TripAdvisor Impacts Travel Decision-Making [INFOGRAPHIC]
SEEING IS BELIEVING
We already know that 53% of TripAdvisor users won't book a hotel that has no reviews, but it seems photos have an even more powerful influence, not only in terms of generating traveler engagement but more importantly in generating booking inquiries. In fact, compared to hotels without any photo:
Properties with at least one photo see an increase of +138% in travel engagement
Hotels with more than 100 photos see an increase of +151% in travel engagement
Properties with more than 1,000 photos see an increase of +203% in travel engagement
These findings make sense, since one would assume a traveler spends more time looking at photos and videos on a hotel or B&B page if there are more photos to begin with.
What's even more interesting is to find out this actually leads to more booking inquiries! In fact, compared to properties that have no photos:
Properties with at least one photo have +225% more likelihood of booking inquiry
Properties with more than 100 photos have +238% more likelihood of booking inquiry.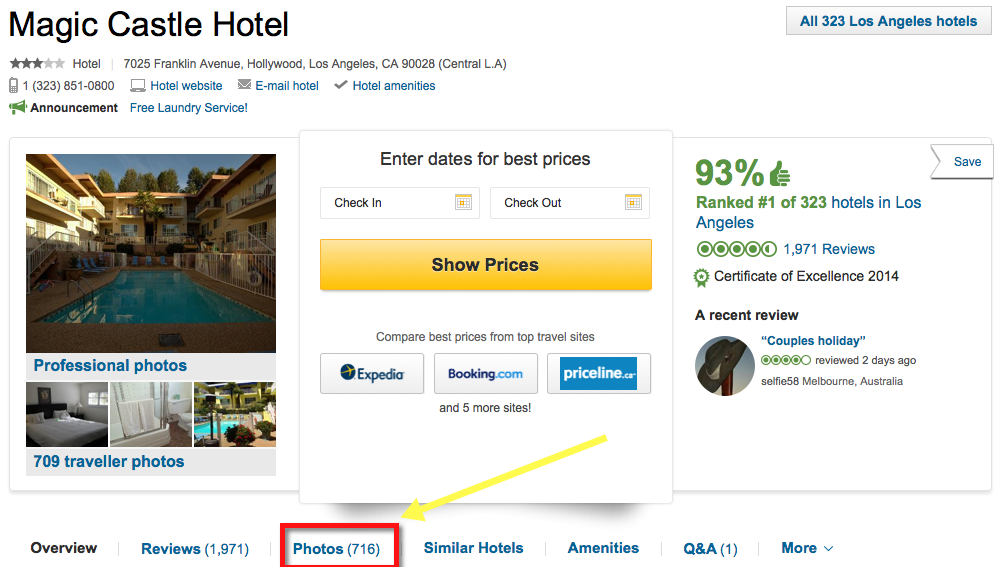 REVIEWS STILL MATTER
While photos play an increasingly important role in the decision-making process, reviews remain as important as ever and, perhaps even more so for hoteliers, responding to reviews is crucial.
This new study highlights the fact that seeing management responses impacts traveler engagement as well, not to mention the significant impact on overall ratings for hotels and B&Bs. These results are quite telling:
Rate of Management Responses for Recent Reviews vs. Average Review Rating
0% response rate = 3.81 average review rating
5%-40% response rate = 4.04 average review rating
40-65% response rate = 4.05 average review rating
65%+ response rate = 4.15 average review rating
Previous studies showed that only between 30-40% of all hotels, restaurants and attractions listed on TripAdvisor actually managed their account, including responding to customer reviews, but I still believe the figure to be lower than that threshold.
Thus, there is a great opportunity for hoteliers and B&Bs to take this advantage in this space. Of course, responding to reviews alone will not get you a better ranking if improvements are not put in place or if there are other elements at stakes, i.e. pricing issues, location, etc. But it does play a key role!
Responding is key
Diane Barr, Vice President, Customer Experience & Brand Standards at Wyndham Hotel Group says: "At Wyndham, we encourage all of our franchisees to monitor, review and act on the comments we receive from guests. We partner with TripAdvisor to collect reviews via a guest satisfaction survey; the feedback helps us to measure our success and continue to exceed guests' expectations. We help properties understand that it is a priority to respond to reviews and encourage user-generated content, which leads to higher engagement from potential guests on our property pages."
Below is an example of management response by TRYP Quebec Hotel PUR, a property of Wyndham hotel: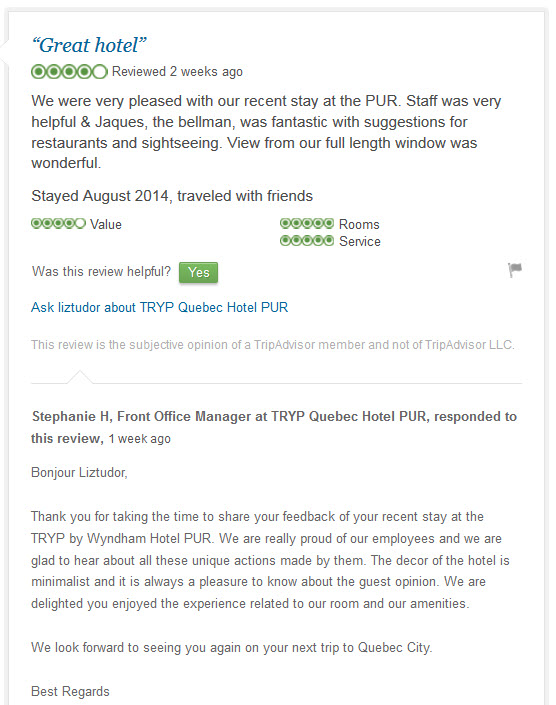 Hoteliers, do any of these new findings surprise you? I would love to have your feedback and/or anecdotes on this topic. Feel free to comment in the section below or send me an email at frederic@gonzomarketing.biz
Read also: 3 Tips to Rank Higher on TripAdvisor
Or: Best Practices in Travel: Online Reputation
as page views per session and booking inquiry clicks – See more at: http://globenewswire.com/news-release/2014/09/03/663342/10096925/en/Responding-to-Reviews-Online-Drives-Booking-Inquiries-TripAdvisor-Study-Reveals.html#sthash.5boclH5G.dpuf
The study analyzed data including the number of reviews, management responses, and photos and videos across a sample of hotel and B&B pages to reveal which factors have the greatest influence on travelers to look for more information about a property – See more at: http://globenewswire.com/news-release/2014/09/03/663342/10096925/en/Responding-to-Reviews-Online-Drives-Booking-Inquiries-TripAdvisor-Study-Reveals.html#sthash.5boclH5G.dpuf