We're more than halfway through 2015 already, and the travel marketing landscape is changing fast, as always. From Mary Meeker's Internet Report to Social Media Examiner's Marketing Industry Report, many recent findings shed light on up and coming trends that travel brands ought to be paying attention. Here is my humble analysis on the matter.
1. Mobile advertising
Earlier this year, I explained why travel brands must connect with mobile travelers. Recent stats all confirm what is more than a fad: mobile is here, it's not a mere trend but rather a way of life. Yet, advertisers are slow to jump on the mobile bandwagon, as can be seen in the chart below.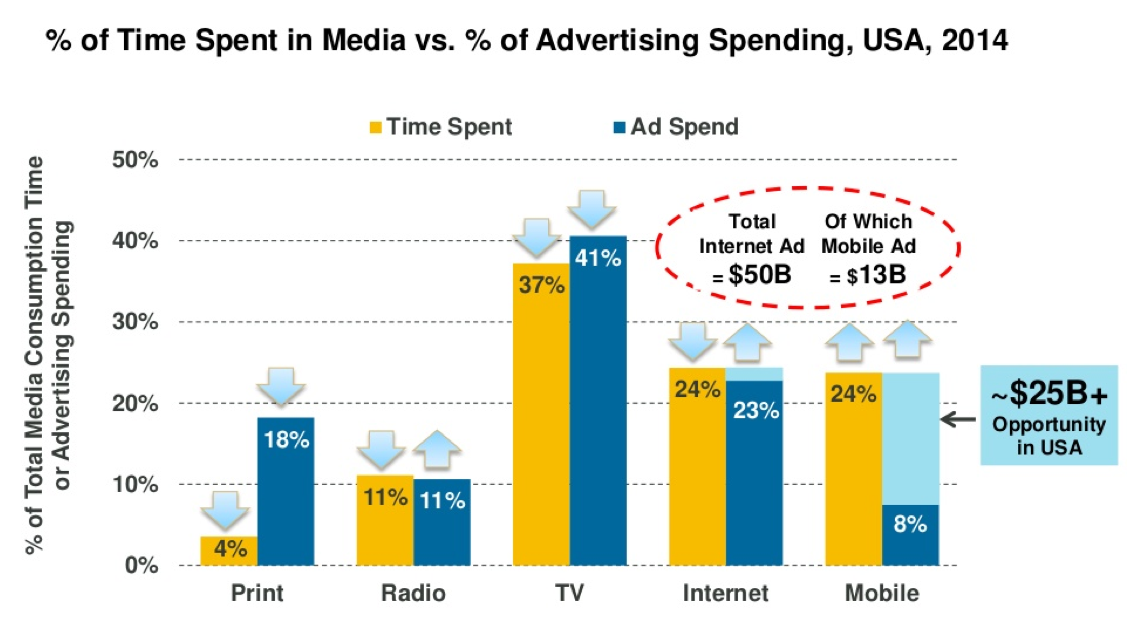 Marketers tend to stick with what they know, i.e. print, radio or TV.  If this still makes some sense with radio and TV, there is a disproportionate amount of advertising budget going to print while mobile goes grossly under-represented.
And if the numbers shown above are industry-agnostic, we can see the implications in tourism, where many travelers search and book via a mobile device. Destinations, hoteliers and airlines take note: there are still lots of opportunities to gain a competitive edge from mobile advertising!
2. Carrousel Ads
We all know images, visuals or infographics work well in social media. In fact, a recent HubSpot article found that blog posts with images get 94% more shares than articles without images.
Similar findings were found for Facebook post engagement and Twitter as well. So rather than showing one picture per post, social networks are now increasingly using the carrousel method in order to show more images in a single publication, in particular for paid posts.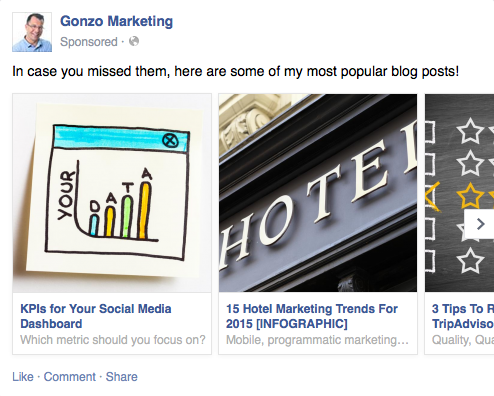 Facebook introduced this feature late 2014 through Power Editor and early 2015 through its native advertising platform, and Instagram recently launched its own version. Pinterest has been featuring carrousels for a while within its search function, while Google tried this feature as well last year but pulled it out.
Will we see an equivalent for Twitter, highlighting multiple tweets within a single publication?
Read also: Instagram Ads for Travel Marketing
3. Videos Beyond YouTube

Did you know 64% of website visitors are more likely to buy from an online retailer after watching a video? While this finding from comScore applies to retail, we also know how important video has become in the travel sphere, in particular since Facebook jumped into the scene.
Read also: Videos on Facebook: Get in while they're hot!

YouTube remains a huge player, with its more than 1 billion monthly active users, the second more important search engine in the world after Google, and number 1 when it comes to travel in the 18-34 age demographic.
But the key takeaway here is: video is not just about YouTube anymore. Travel brands should also consider Facebook, which recently surpassed YouTube in terms of video views AND uploads on its platform. Not to mention Vine or Instagram, and even Twitter which now allows for embedded videos in its tweets.
4. Messaging Apps
Messaging applications are all the rage, in particular with Millenials and younger consumers aged 13-25. Consider these global messaging leaders and some eye-opening stats: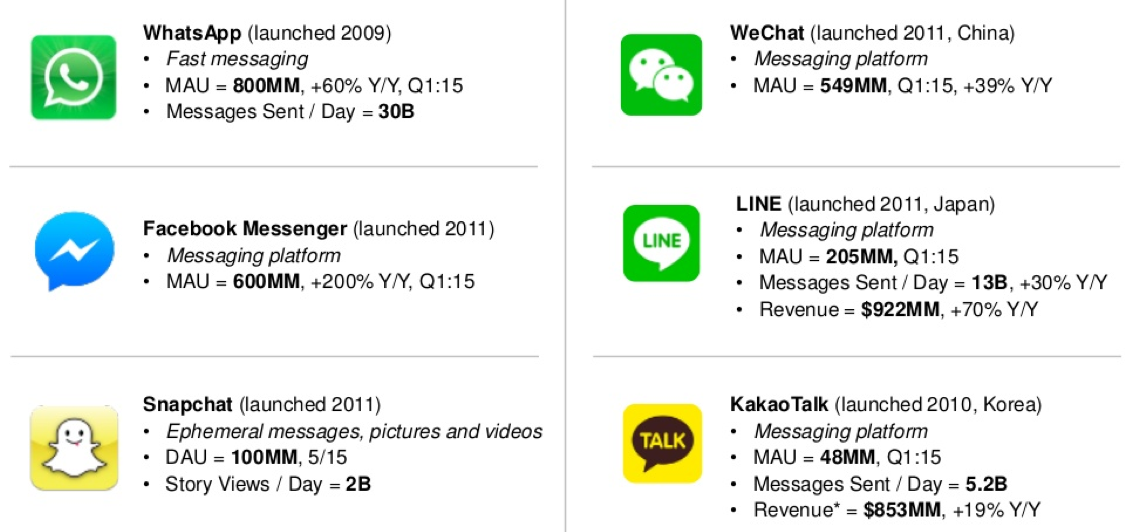 While retailers and popular consumer goods have begun targeting younger audiences through Line or Snapchat initiatives, there are few examples coming from the travel industry. It should also be said that results are difficult to track, beyond anecdotal evidence and the ever-elusive "buzz factor".
Nevertheless, it's interesting to see how Sunshine Village, in Banff, Alberta (Canada), invited its snowboarders and skiers to share snaps through #BanffSunshine stories this past winter. A trend to follow, for sure.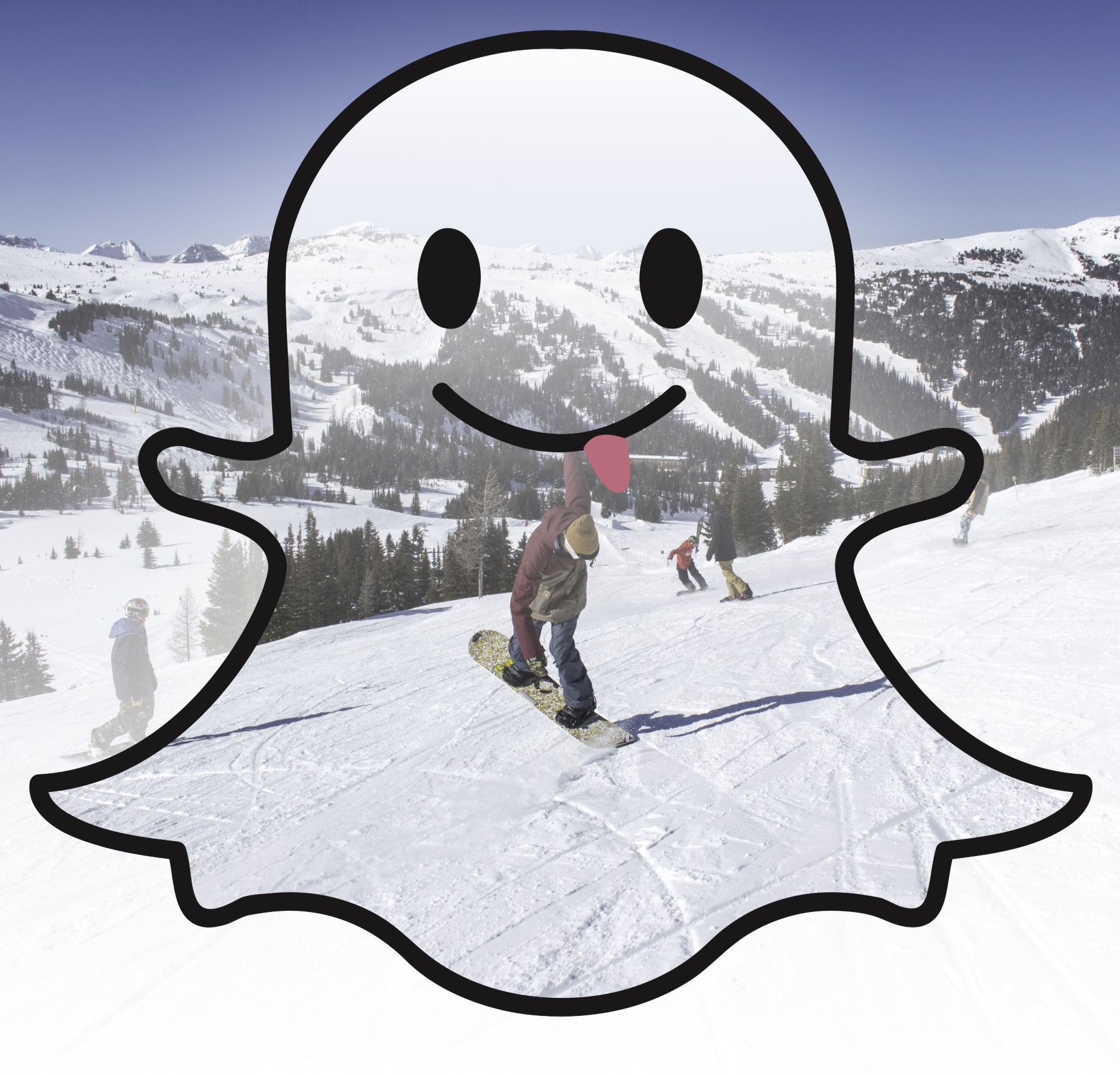 5. User-Generated Reviews
TripAdvisor was lauched 15 years ago, back in 2000. Did you know it took four years to reach the 1 million reviews milestone? It reached 75 millions reviews in 2012 and by 2013 it had reached 150 million reviews, with 50 million reviews written in that year alone! Back in 2012, TripAdvisor estimated 102 reviews were written every minute. In 2015? 139 reviews per minute, an almost 40% increase in the past three years. It now has more than 225 million reviews.
Likewise, in the past year Airbnb saw an increase of 140% in user generated content, boasting 14 million new reviews. We are seeing similar, staggering stats from the likes of Yelp, Expedia, Booking, Zomato, Cruise Critic and other review sites in the travel sphere. Thus, online reputation management is no longer a nice-to-do consideration for hotels, restaurants and attractions, but rather a must-do.
BONUS TREND: Social Advertising On The Rise
When I wrote up my piece on travel advertising trends for 2015, social advertising was on the radar. Rightly so, it seems. According to Social Media Examiner's 2015 Marketing Industry Report, paid advertising on social media is on the rise, with Facebook leading the pack, with more than twice the investments put into Google AdWords. From my experience, this is still not the case in tourism & hospitality where Google AdWords get a disproportionate amount of advertising budgets.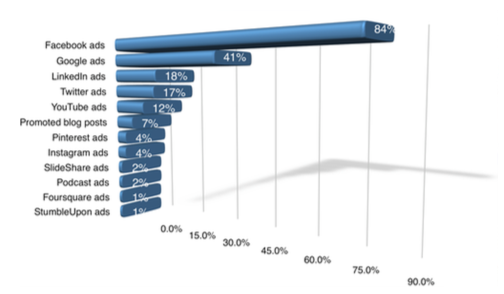 What we aren't seeing in the chart above is how much advertising budgets are being transferred over to TripAdvisor, considered a social media in the context of online marketing. I would think many marketers, specially in smaller, independent hotels, will consider Facebook ads and TripAdvisor (business listings, TripConnect) rather than spending too much on Google AdWords campaigns…
Marketers realize the low costs associated with social media ads, with higher potential for return and interaction. This explains why Facebook is where marketers are most expected to increase their advertising budgets in 2015, along with Google, Twitter and Linkedin.
As always, I welcome your thoughts on the matter. Agree? Disagree? Let me know in the comment section below.