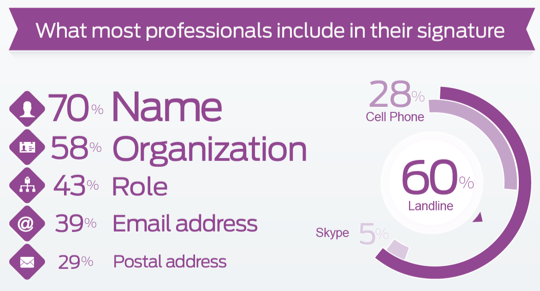 A year ago on this blog, I wrote a piece called Email is dead… NOT! Well, lo and behold, email marketing is still alive and kicking, even though many marketers focus mostly on their social media tactics sometimes to the expense of easily reachable tools, such as an effective email signature.
After all, most employees in your company, no matter in which department they work, use a corporate email that goes out to external contacts, thus contributing to the brand's perceived image. So why not maximize the efficiency of this tool? Here are 5 tips than can help:
1. LINK TO SOCIAL MEDIA PROFILES… IF APPROPRIATE
If your organization has a thriving presence on Twitter or Facebook, why not have a button or link under your signature? We sometimes take for granted the fact that employees are a brand's best ambassadors and that not everybody knows about your Facebook page, or Pinterest boards.
If individuals use social media platforms with a professionnal scope, in most cases Linkedin at least, this makes for a great link to add with your signature.
Be careful not to link with a social media profile where personal content gets shared, unless you and your organization are comfortable with this perspective.
2. SEPARATE SIGNATURE FROM COPY
It's a simple tip, but there needs to be a visual separation to mark where the body of your message ends, and where the signature begins. The rule of thumb is to use the "–" at the end of your message, just like PR specialist use -30- to mark where the press release ends.
There are many plug-ins available so that the signature is an automated one, for example Right Inbox if you use Gmail as I do. (NOT an affiliate link)
3. DON'T USE IMAGES
A common mistake is to include a corporate logo or, even worse, to have the whole signature as an image. Many, if not most, internet service providers (ISP) and email providers, such as Gmail, Hotmail or Yahoo will block off images considered "attached" to an email message, thus your signature will not make it into the recipient's inbox.
If you are trying to establish contact or wish to follow up, it defeats the purpose, doesn't it?
4. COMPLETE CONTACT DETAILS
This is a personal pet peeve: I hate it when I receive an email from someone, then wish to follow up with them by phone… but there are no contact details in the signature!!
As mentioned above, most email services offer automated signatures, if not directly within Outlook or Lotus Notes, then through a plug-in or web-mail service. Complete contact details should include:
Name and surname, add title if relevant, i.e. MBA, CFA, etc.
Phone number, with area code and country index, specially if you deal with international clientele.
Email address, in particular if you have a separate one you wish to be contacted on.
Website, whether it's yours, your companies, or your blog's.
5. ADD AWARDS OR BRAND USP
Last but not least, why not take advantage of this communication opportunity to highlight a recent award won by yourself, or your company? Is your hotel highly ranked on TripAdvisor or did your destination recently win an award or mention by a prestigious magazine?
This is the place to mention it, under the email signature. Another option is to simply reiterate your brand's vision or mission, in particular if it is distinctively unique and appealing to your audience.