Google is the number-one digital powerhouse in the world and across all industries, but perhaps more evidently so in travel where over 87% of vacation planning research begins online.
Google is also increasingly playing a role in our day-to-day lives with a wide variety of relevant tools and features such as Google Home or Google Nest, acting as a virtual assistant that can help you accomplish many tasks. I even wrote a recent blog post on how voice search will impact travel marketing.
In today's digital landscape, brands ought to manage their marketing communications tools (website, blog, newsletter, etc.) and their social media. Indeed, it has become a top priority for brands to manage their online reputation, in particular on Google. And the way to go about it is by having an active Google My Business account.
Here are five reasons why we need to be more proactive on Google My Business:
Google Maps
Have you ever gotten lost or ended up at the wrong place when following bad directions from your GPS? Irritating, isn't it? The experience can be extremely frustrating whether you are by car, foot, bike or public transit.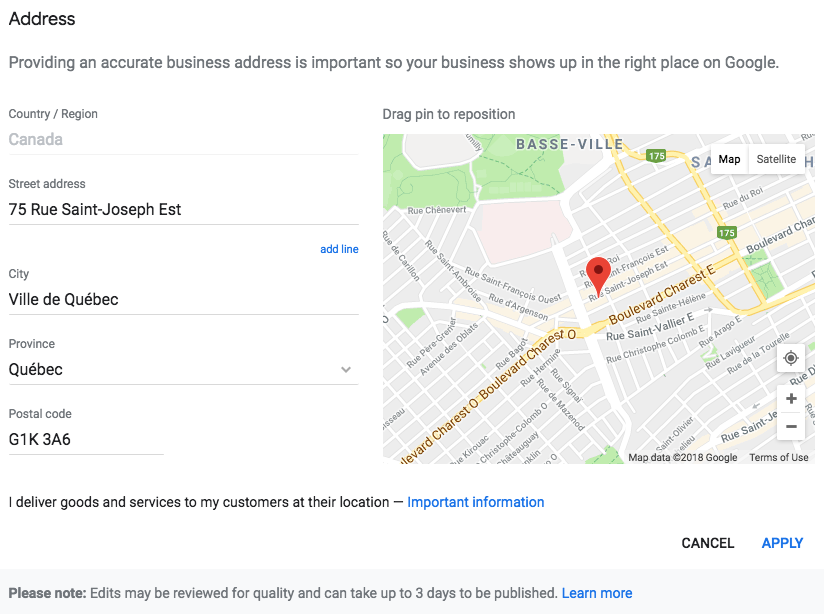 Using Google Map's geolocation features to show where your business is located.
One of the most important reasons why you must manage your online presence with Google My Business is to ensure that your brick-and-mortar address that is featured in online search results is the address where you want your customers to go. This is not always the case!
Some businesses only have a postal box number or operate seasonally in the middle of a remote park. How do you know if customers are heading to the right spot? Make sure that your Google marker is exactly at the right place and make sure your account profile reflects the appropriate address.
Posting content in Google's knowledge graph
During the past year, Google launched a brand-new, lesser-known feature that is great for posting content. The content appears to users in an infobox next to the search results in Google's knowledge graph.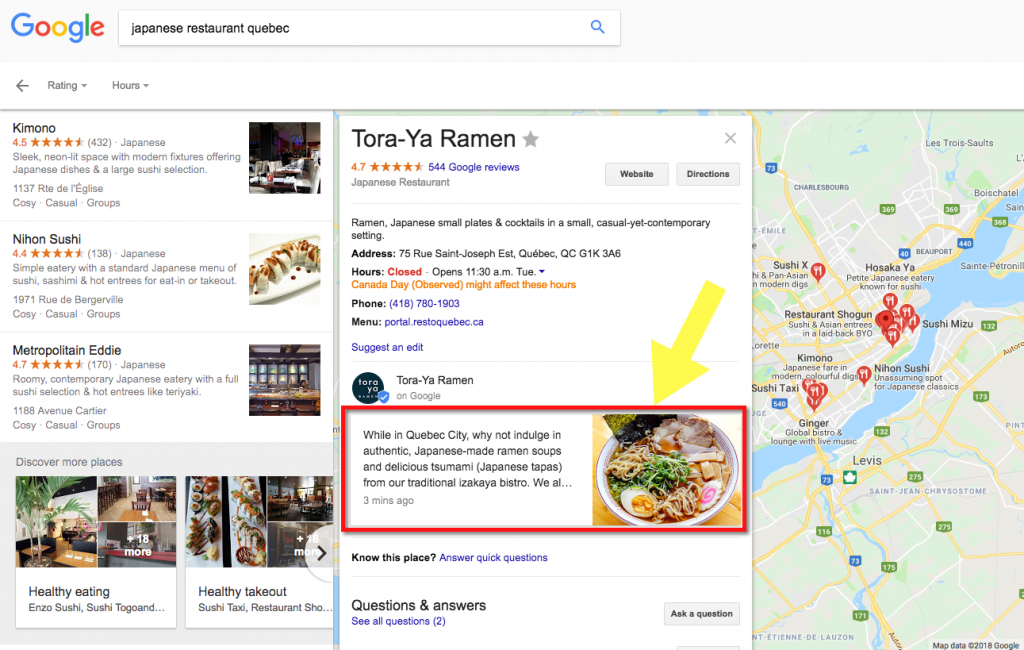 You can create messages of between 100 and 300 characters. Ideally, you should include an image for maximum impact and a link that will redirect users to a specific URL on your website (if it is not the home page).
You will be surprised at the display stats that can vary between a hundred to tens of thousands of views, depending on your online presence. Google's knowledge graph feature is a great opportunity to add more helpful and inciteful information than just your business' contact information.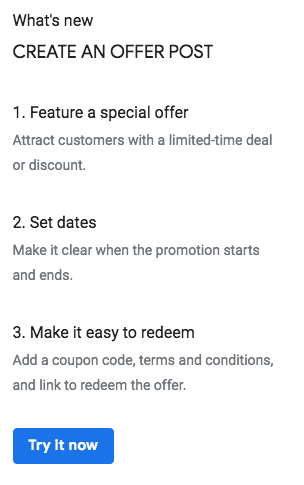 You can now also promote offers (see above), schedule events or even highlight products if you have ecommerce set up on your site.
Answer reviews
Think about the last time you used Google Maps on your smartphone. Did you notice that Google prompted you to share a picture of the location or give a review on your experience?
Because Google encourages users to write reviews, it is about to become the #1 review website in the travel industry, bypassing giants like Booking.com and TripAdvisor!
Read: Google, Facebook, and Travel Reviews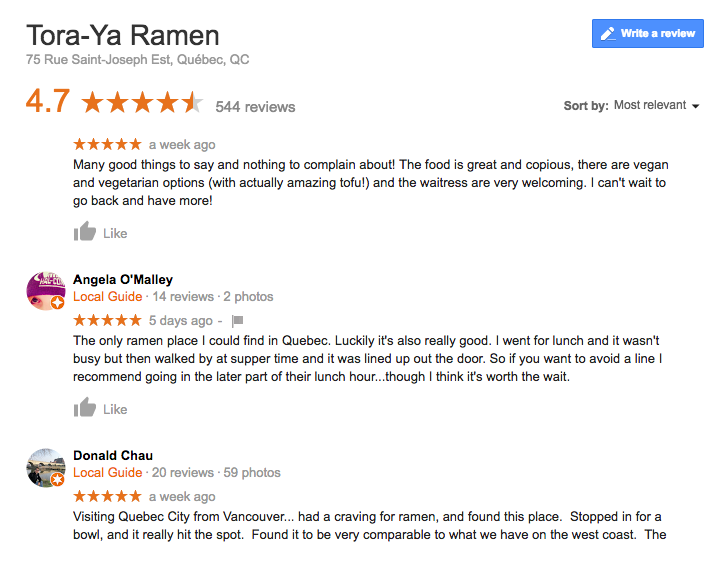 Marketing experts indicate that 14% of today's consumers rely on traditional advertising, while 92% prefer trusting reviews that complete strangers give on popular websites, such as Google, Yelp or TripAdvisor.
You will also notice that reviews that are displayed in Google's search results are comprised of reviews written directly within the platform as well as other websites, such as TripAdvisor, Booking or Expedia in the travel industry. This is why it is very important that businesses respond to reviews and manage their reputations.
Read also: Online Reputation Management Still a Challenge for Hotels
Manage information on your business
This may be the simplest and perhaps dullest part of your Google My Business profile — but the most important! You need to add the following crucial information:
Opening hours
What days your business is open, including or excluding statutory holidays, vacation periods, etc.
Accepted payment methods
A description about your products and services. For example, if you own a restaurant, provide details on: the type of cuisine you serve, how late you are open, if it is a family friendly restaurant, if you have a take-out menu, if it is accessible for people with reduced mobility, etc.
Telephone number and toll-free number
Date your business first opened
Quick history of your company
This is all kind of information that people will be looking for when searching the web. Make sure you offer them what they need to drive them to your business.
Manage your business' images
Last, but definitely not least: your company's images. Now, more than ever before, pictures and images are very impactful to tell your brand's story (also known as storytelling). However, some brands underestimate the positive effects professional-looking pictures can have on organic search results.
Display your best pictures, create a virtual visit and take 360-degree pictures of your company. People can even share these pics in their networks!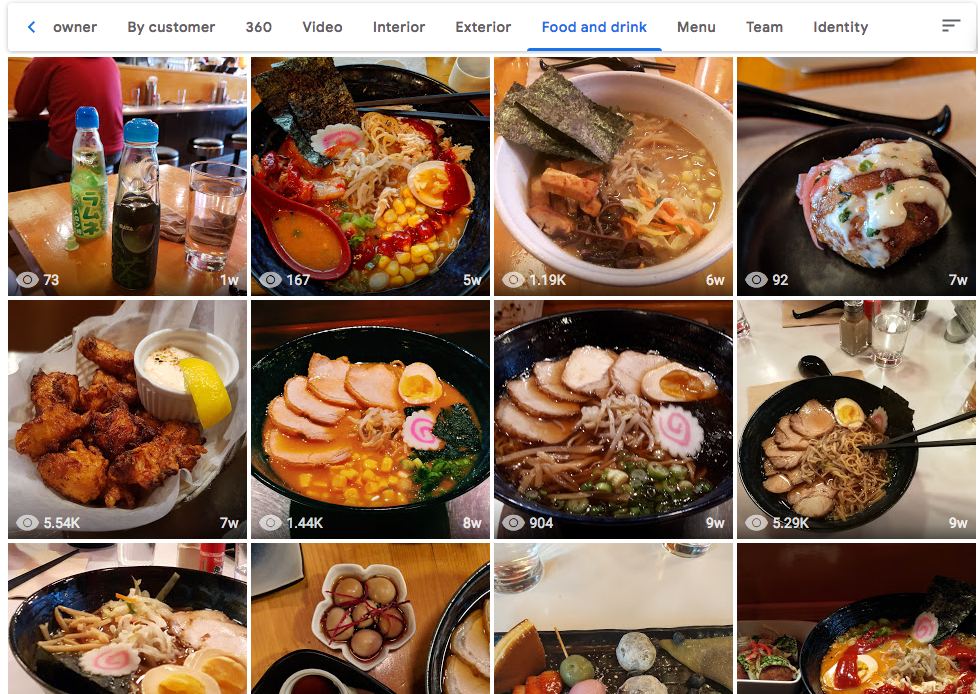 For many Internet users, stylish and professional pictures influence their decision to buy at one business rather than another. Striking images can trigger a phone call or visit to your website.
On the other hand, if you have lackluster—or worse, no—pictures, potential customers will head on over to your competitor that better manages its online presence or has a sprawling network of users who share pictures on Google.
So, what are you waiting for? Get started managing your online presence with Google My Business!