For the past few years, more and more businesses have been turning towards content marketing to generate better results when communicating with their target audiences.
Content marketing often includes:
A company blog on your website or a third-party platform, such as Medium, Tumblr, LinkedIn Publishing and Facebook Articles
Guests posts on high-traffic or influential blogs, or on media sites such as Huffington Post
Regular posts on social media: Facebook, Instagram, Twitter, LinkedIn, Pinterest, etc.
Repurposed or reposted blog articles in a corporate magazine, e-zine or customer newsletter
Pictures and videos taken by your company and broadcasted on various online or offline
Case studies, testimonials or ebooks your company creates
This type of content is often found on owned media—platforms that your company can control. This is the opposite of paid media, which is advertising your company places in mass media, Google, Facebook and other online platforms.
Your company can therefore not directly control paid media. Earned media is when your company gets visibility on third-party platforms, including social media. User-generated content, when individuals write or talk about your business, is a prime example of earned media, with content generated by users who do not work for your company.
Blogging is making a comeback
A company's website is, without a doubt, one of the first tools to use when deploying a content marketing strategy. The site's blog is the ideal place to generate compelling and relevant content.
A recent study conducted by Nora Barnes, Professor at the University of Massachusetts, showed that blogging, after somewhat of a lull in popularity between 2014 and 2015, is making a huge comeback within Fortune 500 companies.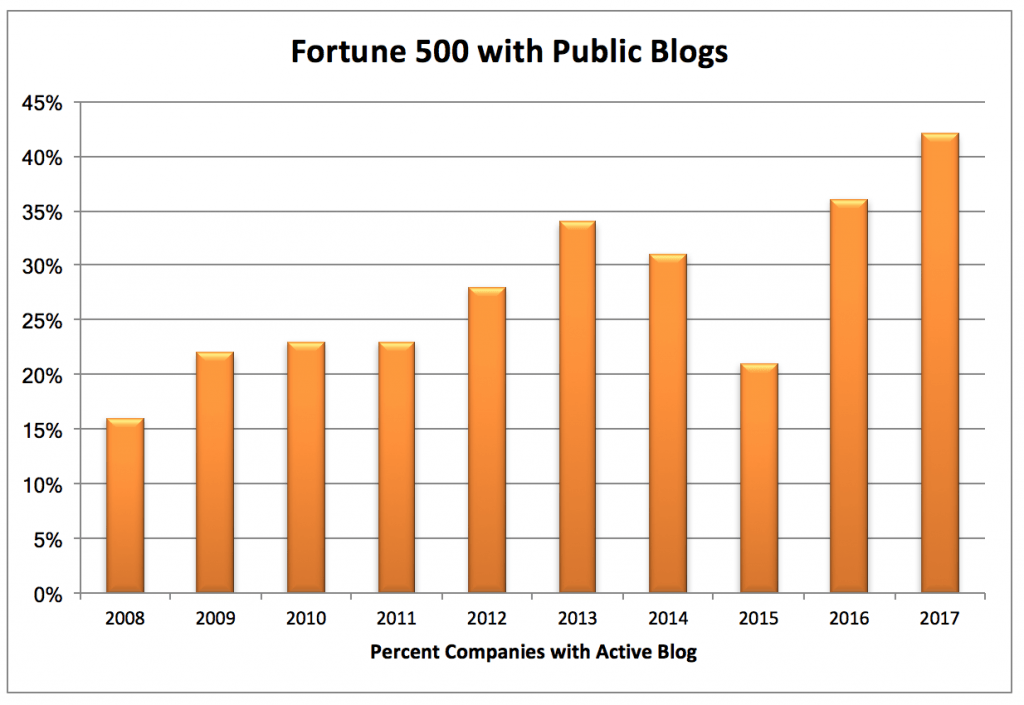 Why do companies favour blogs nowadays? Blogs achieve two objectives. It helps for a brand's storytelling (awareness and popularity) as well as its search engine optimization (visibility).
Read also: Best Practices in Travel Marketing: Blogging
Instagram, too
Storytelling is becoming increasingly popular and no other platform does it better (or almost!) than the darling of social media for a while now: Instagram.
The table below, taken from the same study Nora Barnes conducted, shows that Instagram continues to gain in popularity among Fortune 500 companies and their targeted audiences.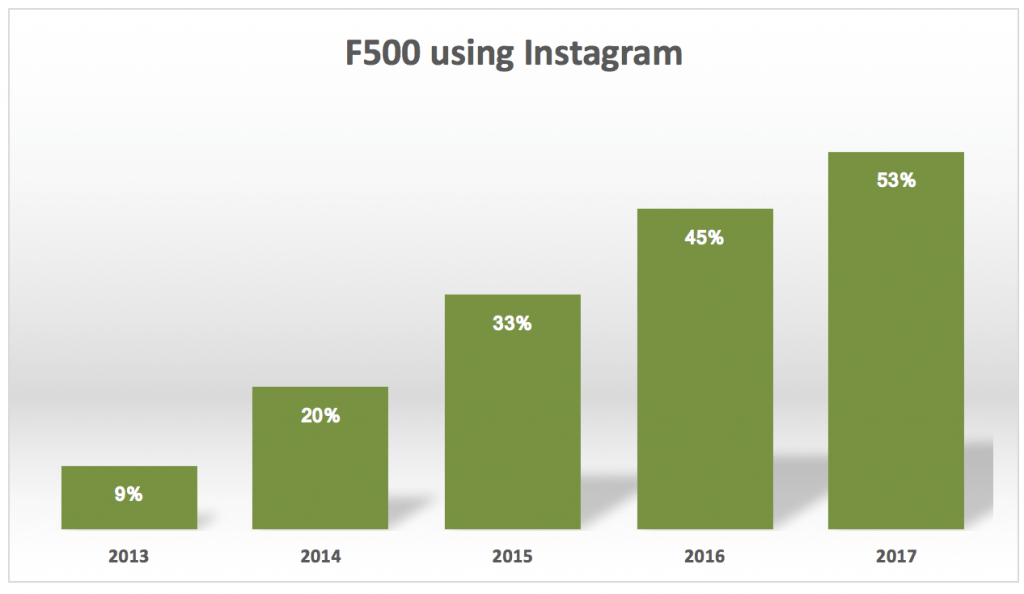 However, for a business to obtain better search engine rankings for its website, generate more traffic, and boost conversions, the blog becomes a very powerful tool. A blog's content generates more short-term traffic when posted on social media or included within a newsletter.
However, it also can generate long-term traffic when the content addresses questions that stand the test of time. This is known as the long tail effect.
Content marketing is not an end in itself
Ok, that is all fine and dandy, but why is the title of this article stating that "content marketing is not a panacea"?
"A panacea is a supposed remedy that is claimed to cure all diseases and prolong life indefinitely." – Wikipedia
The problem is that some companies jump head first into content marketing—without necessarily understanding why or having any measurable goal from the onset. In many cases, these companies think that all they have to do is set up a corporate Facebook page, post of few blog articles here and there, send out some newsletters and ta-da, they are done for the day with respect to their marketing communications strategy.
It's not quite so simple.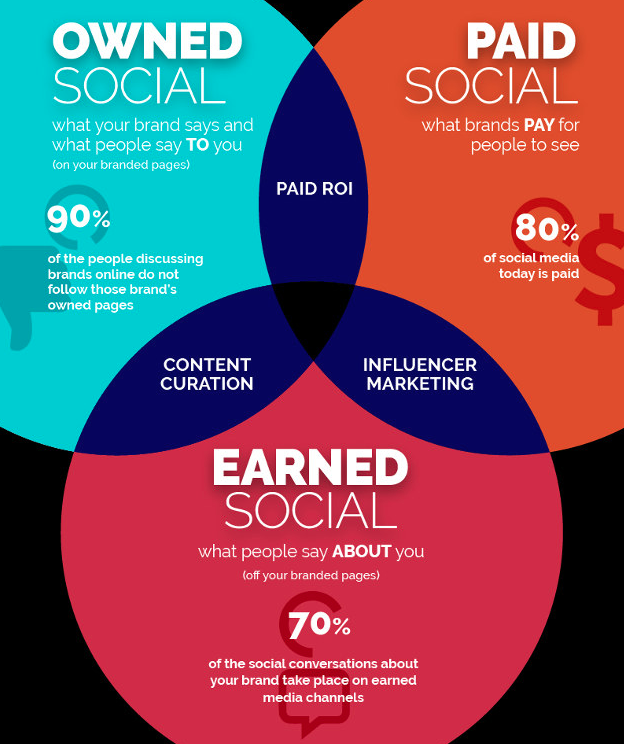 As you can see in the image above, a company can amplify three types of content posted on social media: those that the company has direct control over (owned social), those that the company pays for to reach a wider audience, like on Facebook, LinkedIn or Pinterest (paid social), and conversations that are beyond the company's control but with which it can interact (earned social).
It is also important to remember the importance of content curation and influencer marketing.
Content hitting a saturation point
The issue is that everyone is now completely submerged in content—and there are only 24 hours in a day! Four years ago, I was questioning whether or not there would be "content shock" in travel.
Today, the situation has gotten much worse. And that is why Facebook and Instagram now filter posts using their mysterious, but very powerful, algorithm.
This is also the reason why so many users become disenchanted with blogs and social media platforms; the latter cannot capture and keep users' attention on a daily basis, much less entice people to comment or share content like before.
Why? The answer partly resides in the lackluster, overly corporate or in-you-face promotional content some companies publish on social media.
Content is not enough
And even relevant content has experienced diminishing reach and engagement, compared with a few years ago. A recent study by BuzzSumo shows that for some niche markets and specific topics, the volume of content simply surpasses our ability to absorb, comment on or share it.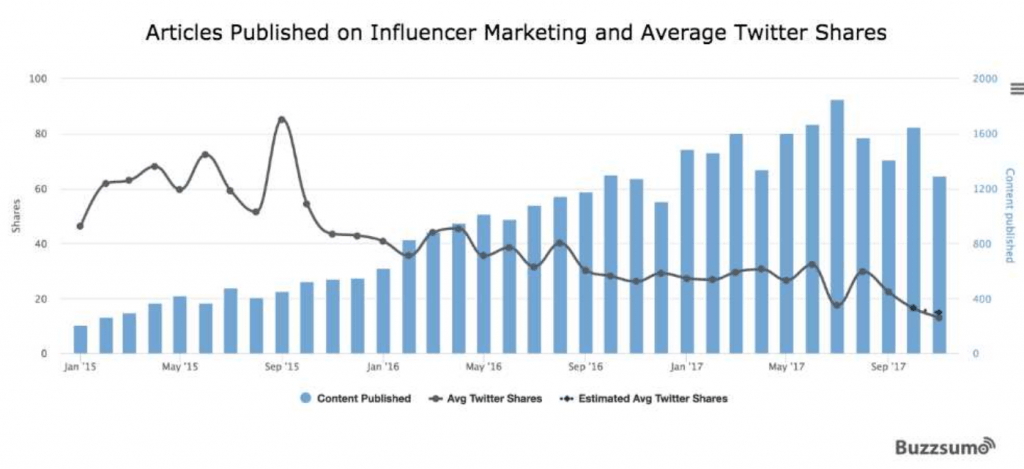 A case in point? Let's examine content shared on a very popular subject, influencer marketing. As you can see, the topics was not addressed in any significant fashion at the beginning of 2015. However, it became increasingly popular in 2016 and 2017. The more content that is published regarding this topic, the less likely it will be shared on a social media platform like Twitter.
This phenomenon has been demonstrated time and again with other subjects, which clearly shows that there is a limit (or saturation point), especially if the content pertains to a highly specific sector.
There are exceptions. BuzzSumo gives the example of blockchains and bitcoins—subjects that are still relatively new and shared a lot on social media. You may also know of other examples of leaders in their niches that post content and generate great buzz on various platforms.
However, overall, companies must now continuously fight to generate the same level of results that was much easier a few years ago…
Back to basics with your marketing mix
This leads us back to square one. Content marketing is still relevant and contributes to raising your brands awareness and generating high-quality traffic to your online assets (website, social media, mobile app, etc.).
Nevertheless, content marketing is not the be all and end all for all aspects of your marketing mix:
Distribution challenges
If I want to book a room at your hotel, does your website enable me to do it online? Is your reservation system available and adapted to mobile devices? Is your product easy to buy or can it be shipped to my location?
Product or service
Is your customer experience stellar? How is your customer service? Are people complaining about it constantly or are ecstatic about how they are served? Do you systematically address comments about your products, service or customer service?
Basic marketing communication strategy
Is your website optimized for search engines? Do you carry out effective keyword campaigns with Google AdWords or Facebook Ads? Have you enough tasteful and professional images and videos that shine your company in a favourable light?
Too often, these basic marketing initiatives are not even taken care of—and then companies decide to embark on a sophisticated content marketing strategy.
It is with these companies in mind that I mention that content marketing will not resolve your sales and marketing challenges. In fact, content marketing may even make them worse!