Google is spreading its grip on the web — both on a global scale and across the vast majority of industries. I mentioned it here on this blog back in 2013 when I explained how Google planned to dominate the travel sphere. Six years later, we seem to be having the same questions, doubts and fears!
Ever since 2010, when Google acquired the online travel solution ITA, rumours have run rampant. Sooner or later, Google would enter into the online travel business, competing with the likes of Expedia, Booking and Ctrip. Is this what is currently happening?
Hotels, planes, packages
Until now, Google has always denied any firm intention to engage in direct travel sales. Its business model remains focused on offering an increasingly intelligent search engine that points to third-party sites and features advertising on its platform and affiliated networks.
The strategy makes sense. PhoCusWright estimates that the Expedia Group and the holding company Booking.com alone accounted for advertising spending of around $10.6 billion in 2018—more than 5% of Google's worldwide revenues! Would Google really turn its back on two major customers by attacking them head-on with direct sales?
"Both Expedia and Booking spent more than $10.6 billion in 2018 on Google, which represents more than 5% of Google's global revenues!"
Expedia Group CEO Mark Okerstrom recently said that for him, the main competition now came from Google, and not from other OTAs (online travel agencies), TripAdvisor or direct tourism providers.
He's definitely on to something.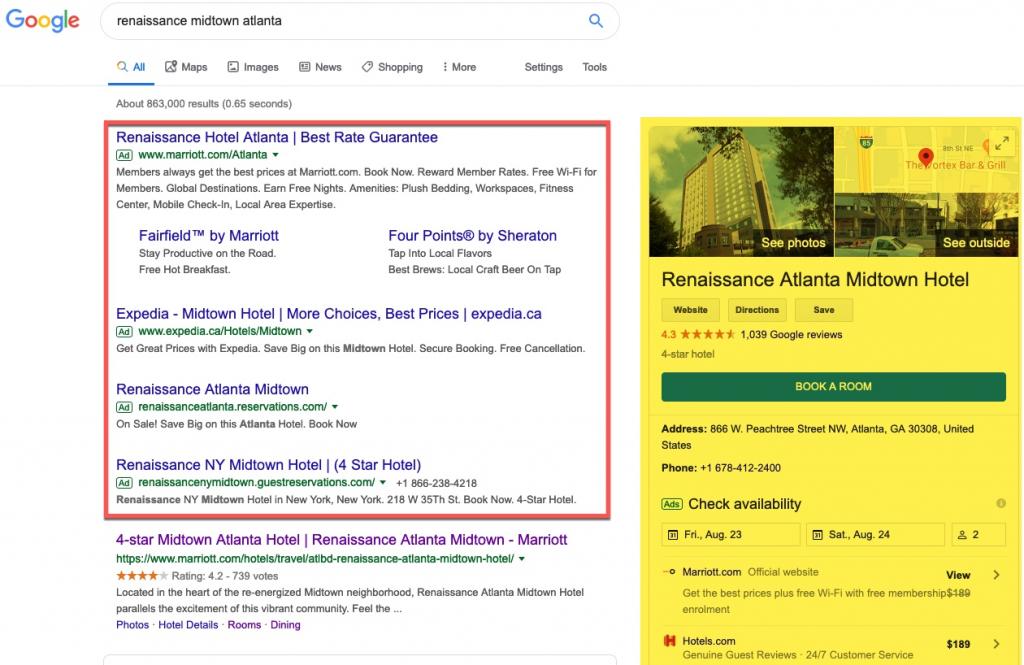 Imagine that you have a business trip coming soon to Atlanta and a colleague or friend recommends the Renaissance Midtown Hotel. Here's what you get with a Google search. Of course, you immediately notice the four paid search results, identified with the red rectangle "AD." Then, organic results appear. On the right, the famous piece of Google's online real estate extracts information from its knowledge graph and shows all the information you need to book the room.
If you click on "Book a room" here is what you will see: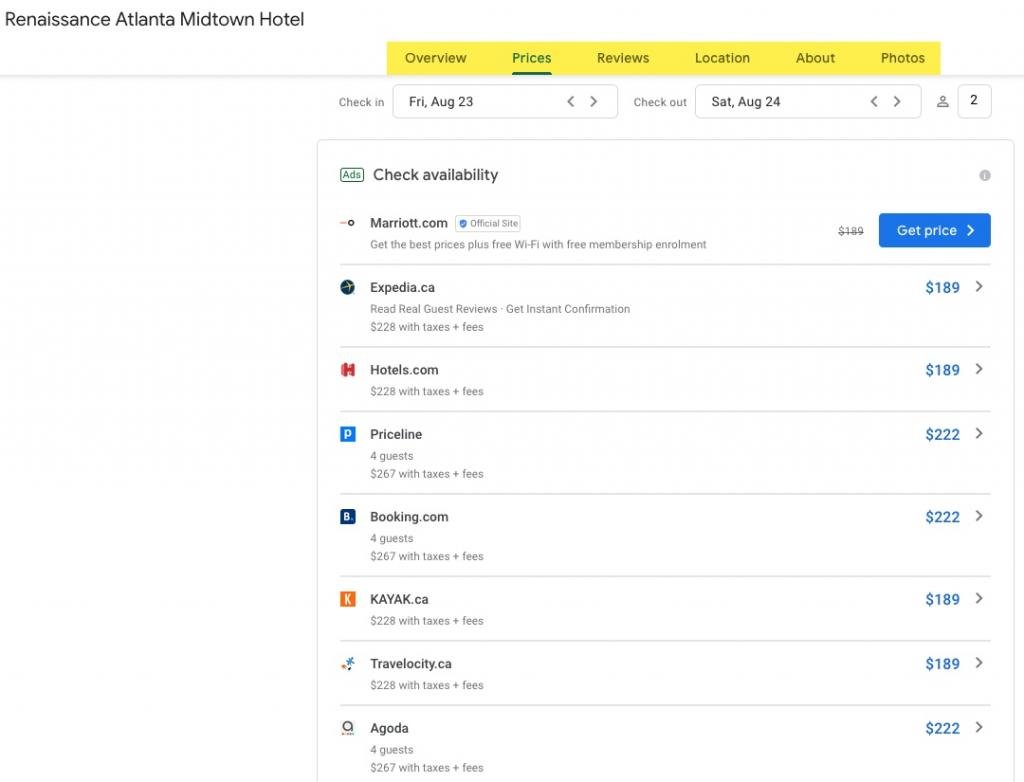 You can then click on the price that seems most interesting on your preferred travel site. What is interesting here are the other tabs at the top of this page, which give you a wealth of relevant information about this hotel:
Reviews: Reviews and comments posted on Google (via Google Reviews, in the Google Maps application) but also from TripAdvisor, Expedia, Booking, Yelp, etc.
Location: Detailed images of what is near the hotel, based on information collected and available in Google Maps. Google now scores your hotel based on nearby access to restaurants, attractions and airport transferts as well!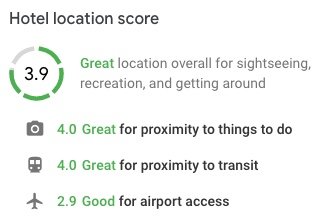 About the hotel: All the relevant details about the hotel, from the fitness center to opening hours, accepted payment methods, accessibility, etc. In short, all the information that appears here comes from Google My Business.
Photos: People don't just want to read about a hotel; they also want to see the images from both the hotel itself and other users.
In sum, Google still seems to be loyal and refers to third party sites, including Expedia and Booking. But will Google stop there and if so, for how long?
Google travel packages
A partial answer to the previous question was answered on May 14, 2019, when Google announced the deployment of its new destination hub, called "Travel." You can set up your own package, including flights, hotels and attractions for a given destination. Let's look at the example of someone in Paris who may be planning a four-night stay in Venice: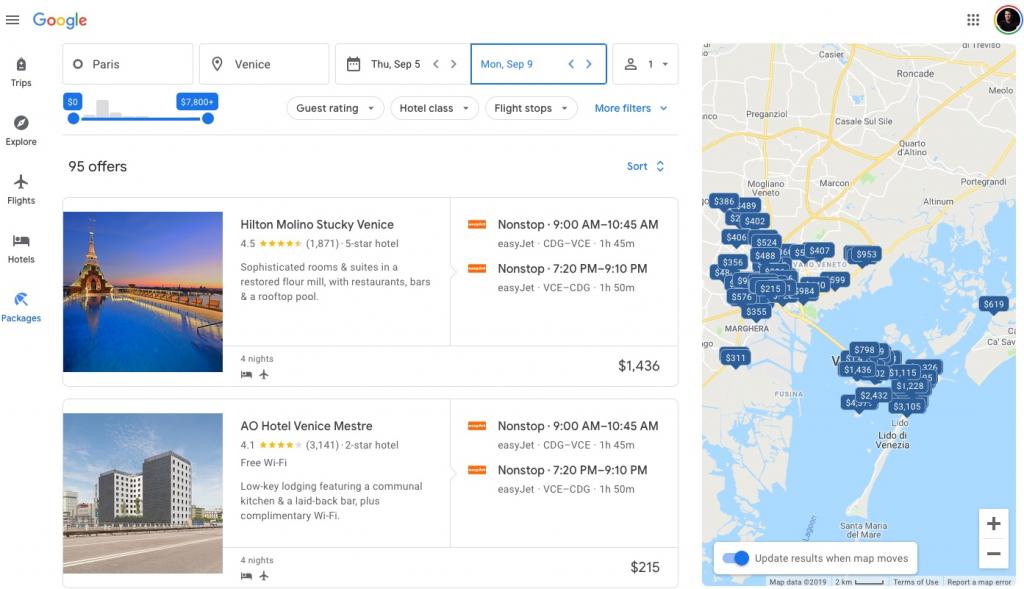 Google Travel Packages
As you can see, Google now offers a turnkey solution, very similar to what makes online travel agencies like Expedia so distinctive compared to the sites of hotels, airlines or an attraction, which do not necessarily offer packages. Packages are usually made on third-party sites, but this is not always the case.
With the Google Hotel Ads feature, hoteliers can manage the distribution of their inventory on the Google platform and promote rates with Google Ads. More importantly, with the Room Booking module you can encourage potential customers to book directly within Google, without leaving the mobile app. Indeed, it would seem that this feature is only available for mobile users at the moment—who represent at least 50-60% of all bookings, which is more than hotel website users in 2019!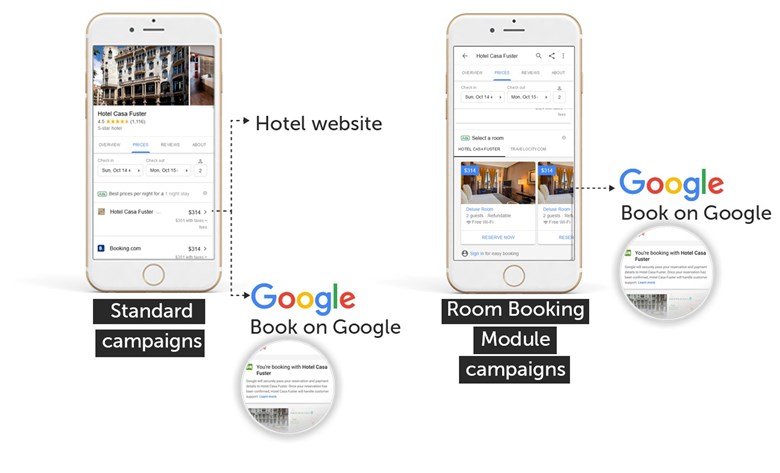 It should be noted that this feature is still only available in some key markets in the United States and in Canada since January 2019. The module does not display rates when searching by hotel name from a desktop computer. A progressive global roll-out is expected to follow later this year.
Therefore, if you do a research on Google Maps using your mobile device by entering "destination + hotel," such as "hotel in Los Angeles," you will see not only the options mentioned at the beginning of the article but also the rates that you can book directly in Google. A recent article by Search Engine Land shows that reservations and augmented reality are indeed coming to Google Maps, with many potential implications for travelers.
Thus, Google is taking up more and more space in the travel industry. It will be interesting to see what happens next, given that several other players are on the move, i.e. TripAdvisor's pivot strategy to social media. Not to mention how players like Amazon may eventually jump into the fray and disrupt some more. Interesting times ahead, wouldn't you say?