In a recent post, I shared with you what I thought would be 5 Digital Marketing Trends for 2015. One of these predictions was the foreseeable death of Google+ as a social network, which really isn't much of a prediction because it never really was a social network to begin with.
By that, I mean that social media experts and even Google aficionados would claim that Google+ IS Google, or simply another layer to its complex online ecosystem. That's all true, and I still believe G+ can play an important role for travel brands working their SEO, as well as for local reviews for hotels and restaurants, for example.
Google remains a force to be reckoned with and still dominates the online sphere, no matter what industry you work in. But… I get the feeling there is more at play here, and while Google has not turned itself into a Microsoft just yet, worrying signs keep accumulating. Here are a few examples implying the giant from Mountain View may be losing some of its mojo.
1. Video viewing
Ever since YouTube was purchased by Google back in 2006, video sharing has been a one horse race. Sure, there are other platforms that are appealing and have their pros and cons, for example Vimeo or DailyMotion. But none have clout like YouTube with its more than 1 billion users and more than 100 hours of videos uploaded… every minute!
It is said that YouTube is the second biggest search engine (after Google), and the biggest search engine in travel amongst 18-34 year-olds!
Until Facebook became serious about video sharing.
According to comScore, between June and August 2014, Facebook went from 4 billion monthly views to 14 billion monthly views. In September, it was recording 1 billion views… per day! And a new study by SocialBakers in November shows Facebook's share of video posts uploaded directly to Facebook overtook YouTube's videos on Facebook for the very first time!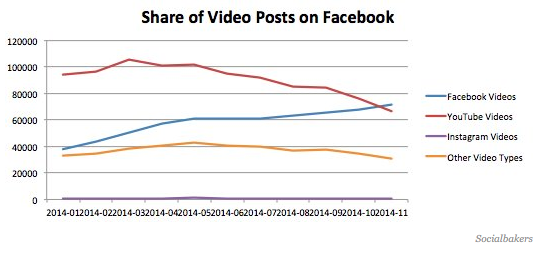 Of course, a lot of this success was due to videos launching automatically in users' newsfeed, explaining partly how #icebucketchallenge became such a worldwide phenomenon.
But now that Facebook surpasses YouTube in terms of monthly video views, it will seek to have videos hosted on its own network, rather than on YouTube, thus chipping away at the dominance (and advertising dollars) from its arch-rival.
2. Internet of Things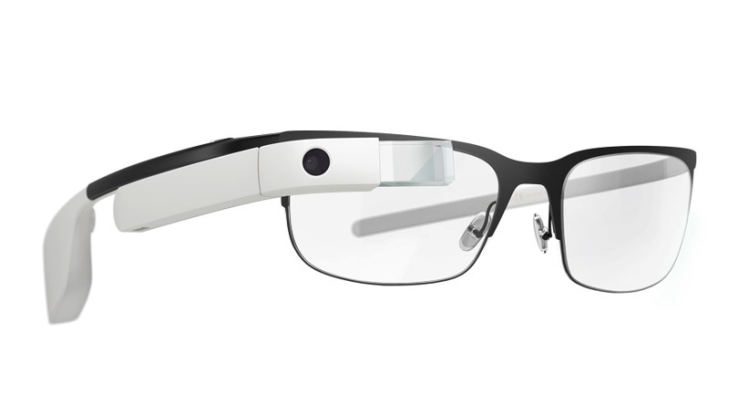 How fickle can some buzzing trends be… a year ago, it was the talk of the town to own, or know someone who owns, Google Glasses. I
t was going to be the rage, marketed to the masses by 2015! Lo and behold, 2015 is knocking at our doors and it seems GG are but a thing of the past. That doesn't mean it won't come back in a revised or enhanced format, but let's just say that idea didn't stick.
Google Wallet is another feature with great potential, with smartphones becoming payment devices, assuming businesses adopt NFC-enabled or adapted point-of-sale terminals. Yet, the uptake has been slow and few retailers are embracing this avenue, save perhaps Starbucks.
Until Apple decided to move into this sphere.
In 2015, there will be two elements to watch. First, the new Apple Watch should mark a new era for the internet of things, with people connected with devices will finally become a reality more than fiction. Second, with the Apple Pay ecosystem available on the latest version of iOS, we can expect to see mobile payment finally coming of age.
Will this leadership by Apple play against Google in terms of market share? Time will tell, but I wouldn't bet against Google just yet.
3. AdWords dominance
Oh but hey, if you are going to do any online marketing, you will certainly invest more and more purchasing Google AdWords, right? After all, 87% of all travel packages decision-making begin with online search, according to a 2012 Google Think study, conducted with Ipsos MediaCT.
Since Google dominates search pretty much across the globe, there's nothing to worry about, then, right? Wrong.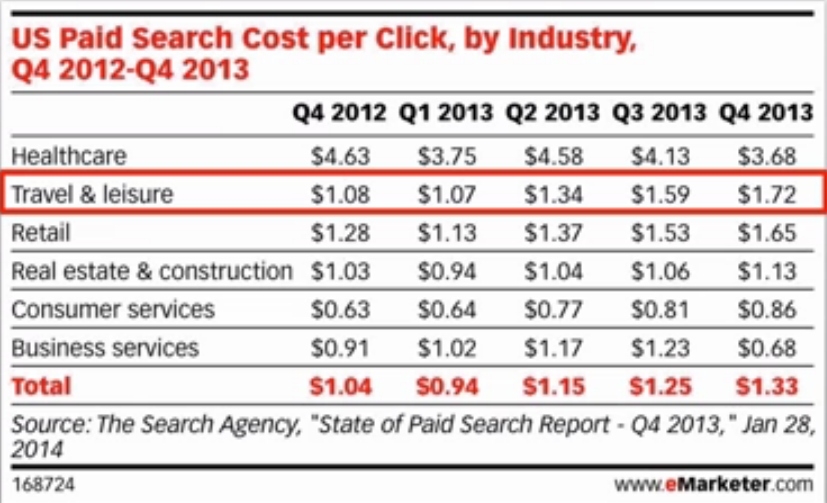 Truth is, AdWords are becoming a very expensive game and independent hoteliers can't ever hope to compete with large online travel agencies, who are investing massively. Priceline is said to have spent 1.8 billion dollars in 2013, only in AdWords, while Expedia spent closer to 1 billion dollars. Both are among Google's top 5 biggest clients in the US!
Until TripAdvisor came up with TripConnect.
Many small hoteliers I work with have budgets that range between 500-1,500$ to spend per month on AdWords campaigns. When you bid on popular words, such as "hotels in XYZ City", the cost per click can skyrocket to insane amounts. But is it the best bang for the buck?
Bidding on search within TripAdvisor often makes more sense, as users here are more often than not further down the decision-making process. Thus, conversion rates ought to justify investing on Business listings and TripConnect solution.
AdWords should remain dominant for a while still, but with remarketing on Facebook, TripAdvisor solutions or even search directly on major online travel agencies, these options can and will chip away at Google's bread and butter. In the long term, that's not good news.
4. Google Search dominance
Over the past couple of years, comScore reports have shown Google to be at a 65-68% market share, with most of the remainder divided up between Bing and Yahoo. There are even some that question this figure, estimating Google to have closer to 80% market share.
It varies per country, per demographic and devices, among other things. Nevertheless, Google seems to dominate clearly this aspect and drive the search business across most, if not all, web browsers.
Until Firefox inked an exclusive deal with Yahoo.
According to StatCounter, just one day after the release of Firefox 34, with Yahoo as its default search engine, we could already see an important shift in search market share in the US:

Of course, this case is isolated to the US for now, it is taking place on Firefox alone and these results were after one day of this new implementation. Time will tell if this change is sustainable and marks a real dent in Google's dominance in the US and eventually worldwide. Thus, it will be interesting to monitor if this situation evolves in the UK and other countries.
Nevertheless, when you add up the various signs detailed above in this post, don't you think Google is losing some of its mojo and showing signs of fatigue? I'd be curious to hear your thoughts, so please leave a comment in the section below.