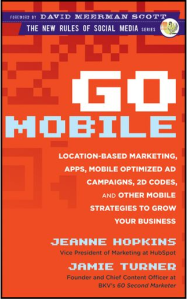 Not a day goes by when I won't stumble upon a new mind-boggling stat about how mobile adoption is skyrocketing or how smartphones and tablets usage are experiencing sharp growth.
Earlier this year, I purchased the book Go Mobile, co-authored by Jeanne Hopkins, Vice President of Marketing at HubSpot, and Jamie Turner, Founder and Chief Content Officer at BKV's 60 Second Marketer.
MOBILE IS NOT JUST A CHANNEL
While this book is excellent for both entrepreneurs and consultants wanting to understand the mobile environment, its focus is clearly to explain how mobile should be included in a proper marketing strategy and in many ways, should be treated as another channel.
If this is certainly a good approach, because we are still in the infancy of the mobile revolution, I believe we need to stress mobile is not just a channel. For most people, it's a way of life!
Consider this recent survey conducted by O2 and published in the Telegraph UK:
Mobile is more than a device
A mobile device thus is much, much more than simply a tool to make phone calls, which is what is was in the very beginning. It is now the tool of choice to surf the web, update a status on Facebook or retweet a funny quote, listen to some tunes while killing a few angry birds or two.
And if you are not making calls, you may just be checking your emails, taking pictures to which you'll add a filter on Instagram, or simply read that ebook you've been putting off for a while. Just like TV revolutionized the traditional household dynamics and computers shattered the workplace dynamics, mobile screens are the next revolution in our everyday, on-the-go connected lives.
THINGS THAT MAKE YOU GO HMMM…
Rather than rehash some of the content from the Go Mobile book, here are some of the most powerful figures from it, along with some recent data from other sources:
79% of large online advertisers do not have a mobile-optimized website (Source: Google, October 2011)
70% of mobile search users complete their tasks after one hour, compared to 30% on a PC (Source: MobileMarketer.com)
The US wireless market penetration of mobile devices was 1% in 1985, 38% in 2000, and 96% in 2011! (Source: Nielsen)
By 2014, mobile web users will surpass 'traditional' desktop Internet users in the US and Canada (Source: Morgan Stanley)
7% of all searches now come from tablets versus 14% from mobile and 79% from desktop (Source: Google)
70% of hotels bookings made via mobile are for reservations

within the next 24 hours

(Expedia, September 2012)
If you left home and forgot your wallet, you would most likely continue. If you forgot your mobile device, you would turn around and get it! (Source: Mobile Marketer.com)
In the tourism industry, mobile is proving to be just as disruptive, not only with last-minute distribution but including as well during the earlier phases of planning. A recent survey by PhocusWright in Europe showed 40% of mobile travelers want to book their hotel and transportation arrangements, and 35% want to be able to modify an existing travel arrangement.
The need for mobile optimized websites
If your site is not mobile optimized, these travelers will simply look elsewhere. It's no wonder an application like HotelTonight became such an overnight success, allowing mobile users to book and save up with deals up to 70% off by tapping into hoteliers' unsold inventory at the last minute.
And to my fellow Canadians who think we are not there yet like our European or American counterparts, think again. According to a recent survey by Ipsos Reid, tablet adoption grew by 400% in the past 18 months, now reaching 15% of internet users, versus only 3% in January 2011.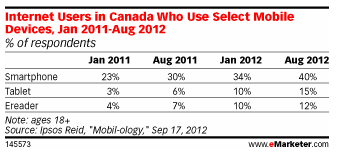 For more on the impact of mobile in the tourism industry, click here or here.