Earlier this year, the folks of Expedia Media Solutions commissioned a very interesting study conducted by Northstar Research Partners, taking a look at the motives and behaviors of travelers across eight countries to uncover travel trends.
Over a 1,000 travelers from each country were surveyed in the Multi-National Travel Trends study that came out this week, providing a snapshot of the preferences, priorities, attitudes and influences of online travelers from:
Australia
Canada
China
France
Germany
Japan
United Kindgom
United States
Here are some of the key findings from this study.
Not All Vacations Are Created Equal
The number of trips taken each year, and the trip duration, vary widely by country. We take on average 3.9 trips per year, but folks in China will take as many as 5.3 trips on average while here in Canada, we only take 2.8 trips on average.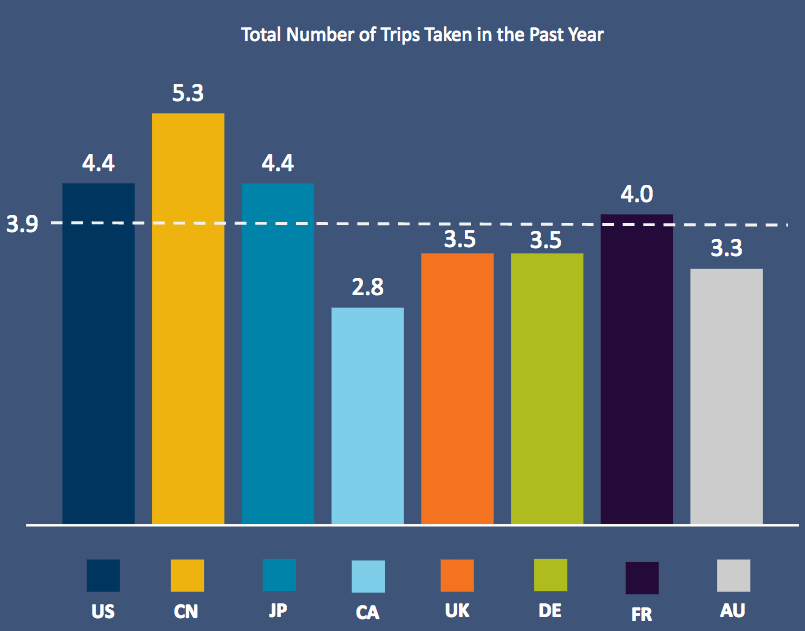 Yet, this only paints a partial picture, as we also need to see how long every trip will last on average. We thus find out that it's actually the Japanese that seem the most vacation-deprived of all, taking only 3.4 days of vacation per trip.
Chinese and Americans also score below the global average of 7.9 days per vacation, while you'll notice France is the only country that score above average for both number of trips AND length of vacation duration. So there is such a thing as joie de vivre after all… 🙂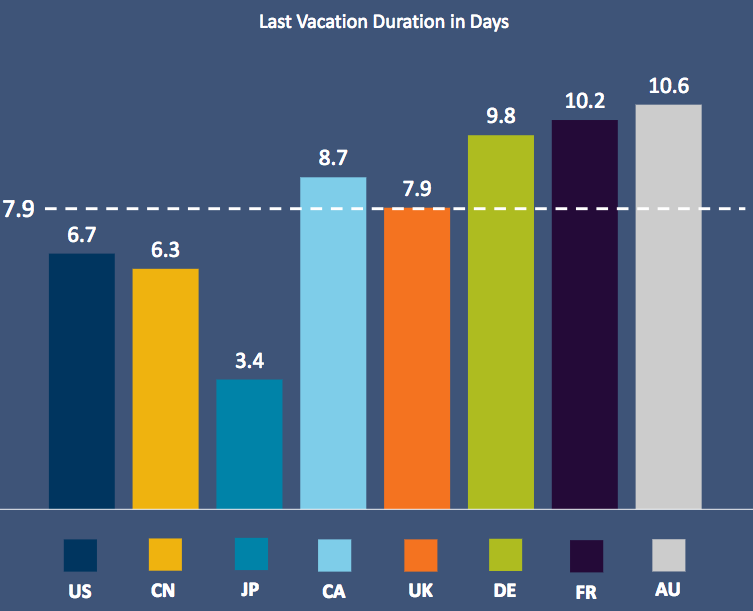 Why Do We Travel?
It's also interesting to see what is the main reason for booking a trip, and how this will vary from one country to the next. Relaxing trips are popular across all countries, except in Japan, where sightseeing ranked number one with 61% of travelers.
More than 50% of travelers from China, Germany and France took a relaxing trip in the past year.  Visiting family was the most popular trip type with Australian, U.S. and Canadian travelers, whereas Chinese and Japanese travelers took more family play vacations than trips to visit family
Hotels And Other Types Of Accommodations
In a recent post I was telling you there were variances in how different countries deal with hotels, and this comes out quite clearly in this study. When asked "Where did you stay on your last trip?", travelers massively went for hotels, as can be seen in the chart below.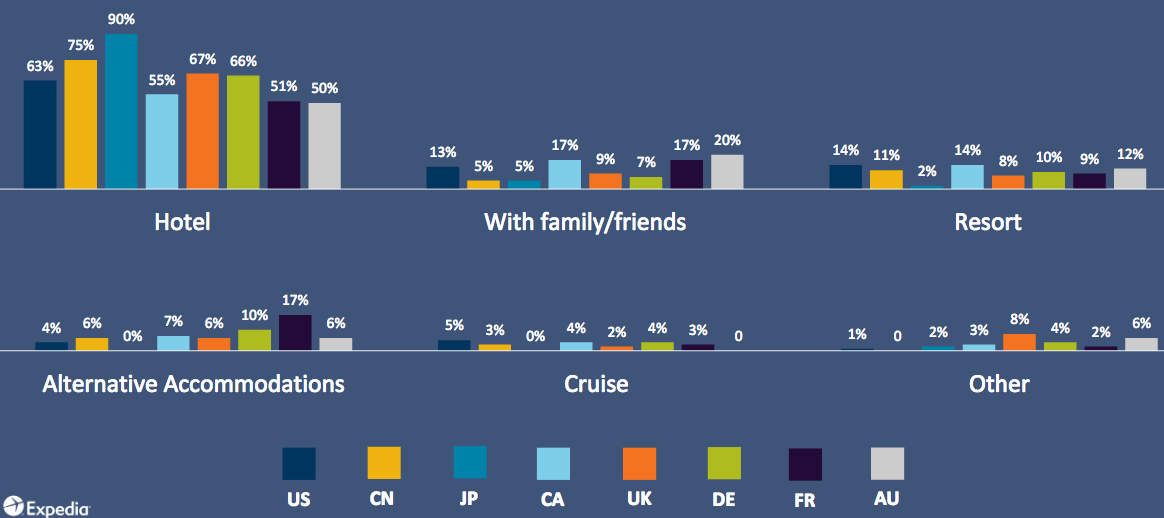 But notice some of the variances that confirm trends and behaviors suggested in the past:
90% of Japanese travelers go for the hotel, and are not too keen on resorts, alternative accommodations or cruises;
The French seem most opened to Airbnb and other forms of alternative accommodations with 17% of them having experienced it on their last trip!
Australians, Canadians, French and Americans are travelers that tend to stay the most with friends and relatives.
Social Media Influence Varies Per Country
Chinese travelers are by far the most likely group of travelers to be influenced by social media, followed by Americans and Canadians.
Only 8% of Chinese travelers said social media does not influence their decision-making process, which is in sharp contrast to Japanese travelers, where nearly 60% said social media is not influential.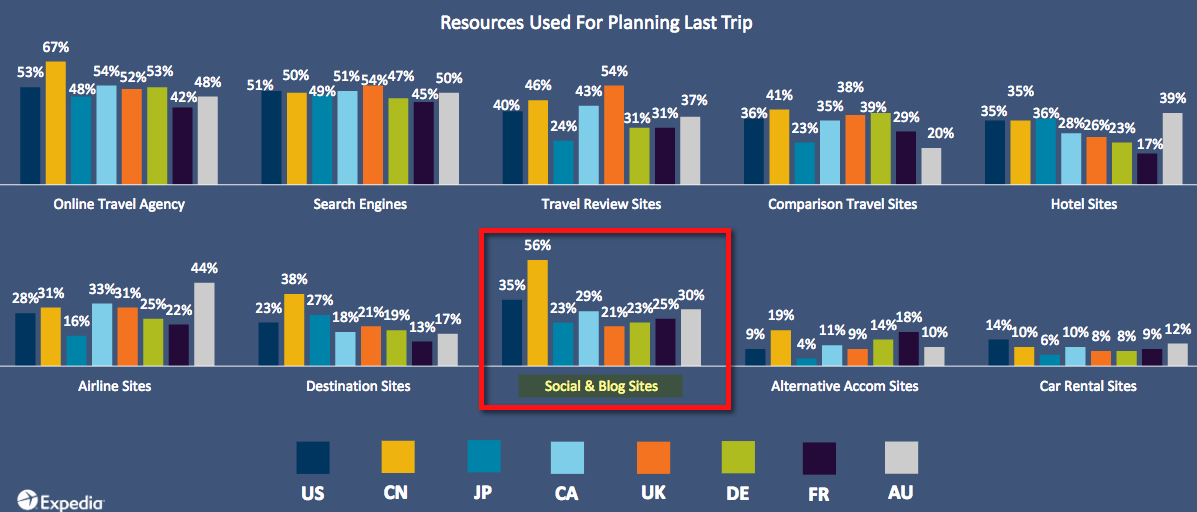 Notice also how on average OTA sites seem to be the most used resources across the globe, or on par in most countries with search engines such as Google.
Australian travelers also stand out as the most avid users of hotel sites and airline sites, while the UK show strong dependence on travel review sites such as TripAdvisor.
Read also: How The Travel Path To Purchase Varies in Canada, US & UK
Imagery And Content Influence And Inspire
Are you a destination wanting to appeal to Chinese travelers? Here's a hint: make sure your campaign has a strong and recognized hashtag!
My fellow Canadians will agree we are suckers for deals and promotions, while it seems Japanese travelers are among the least influenced by travel pictures and videos posted by friends or by travel experts alike.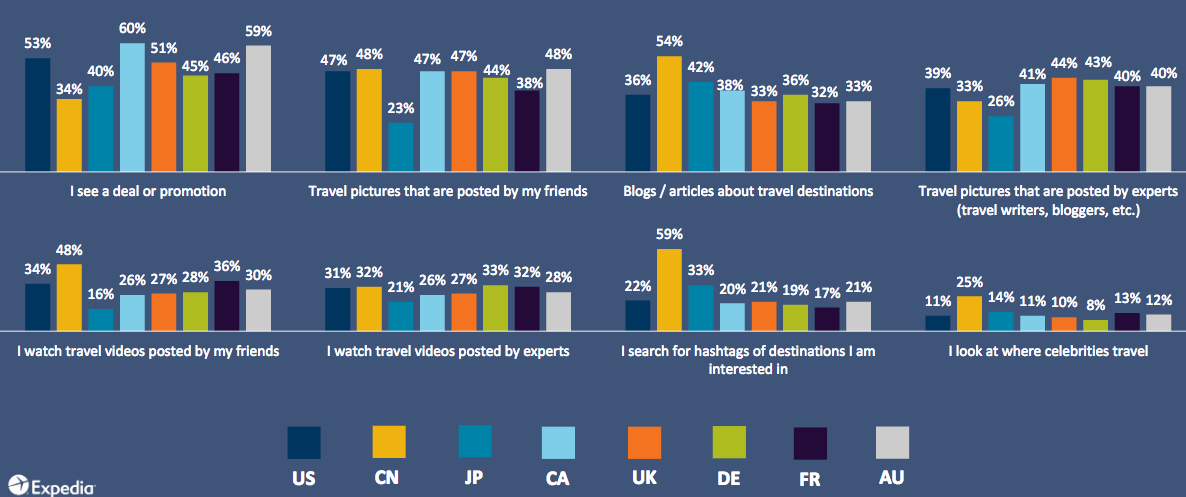 There is lots more in this study, in particular for DMOs and travel marketing practitioners seeking to better understand traveler behaviors in these eight countries. Downloaded it for free by clicking on this link.
Save
Save