Folks in the travel industry – hotels and restaurants in particular – know how important online reviews have become ever since sites such as TripAdvisor came into the spotlight almost two decades ago.
Interested in this topic? Check out our webinar Best Practices To Manage Your Online Reputation
As they have done in the past couple of years, Revinate just published their 2019 Global Hotel Reputation Benchmark Report, filled with insights to help travel marketers compare and optimize their own online reputation management approach.
In 2018, I took at look at previous editions of this annual report and predicted that Google would become the number #1 site when it comes to hotel reviews, and also said Facebook would rise into the top 3, overtaking TripAdvisor along the way. Spoiler alert: the success rate for my predictions was 50-50%. Let's see how things have evolved in the past year.
Read: Google, Facebook and Travel Reviews
Review Craze is Slowing Down
Reviews have been on a continuous growth path for the last couple of years, seeing a year-over-year growth of 20% in 2015, 22% in 2016 and 27% in 2017. But for the first time in 2018, this growth was a single-digit, standing at 8%.
A growth nevertheless, but a clear indication that we have perhaps reached a maturity point… or that review sites are gathering feedback differently.
This is certainly the case with Facebook, which is no longer about "reviews" but now rather about "recommandations". More on this further in this article.
Google is now the #1 hotel review site
So how have things evolved in the past year when it comes to review sites and where guests flock to in order to write their comments online?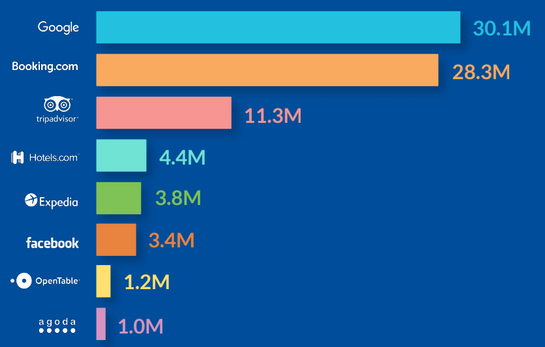 As expected, Google indeed did overtake Booking in the #1 position, as both sites are now dominating the field, with TripAdvisor coming in as distant third. While 74% of reviews were posted on four sites in 2017, a greater percentage is now contentrated in only the top 3 – Google, Booking and TripAdvisor.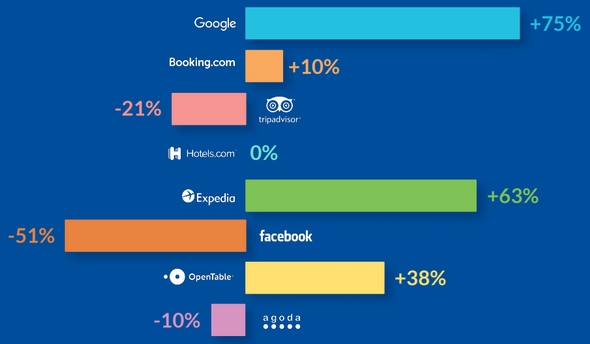 The demise of Facebook reviews is mostly to blame for this skewed concentration, as the popular social network saw a 51% decrease in reviews written between 2017 and 2018, mostly due to its platform change whereas users can no longer give a score between 1 and 5 stars, but rather recommend (or not).
The folks at TripAdvisor must also be wondering how to turn the tide around. Ever since 2015, they have been losing market share when it comes to online hotel reviews, and again saw a 21% decrease in 2018. Just like Facebook moved to a recommendation format, will TripAdvisor follow suit to align with its new social-media-like approach, announced in the Fall of 2018? Read more on this: Travel Marketing Trends: What To Expect for 2019
Response Rate Improving
The silver lining in this report, as far as I am concerned, comes from the response rates we are now seeing from hotel managers. A few years back, a Cornell University study found that 40% was the ideal response rate when it comes to dealing with comments received on various platforms. Should you respond to every comment or review?
No, but we will want to prioritize according to online reputation management best practices.

The most recent report from revinate shows that hoteliers have increased their response rate across the board, except for 5-star reviews, which require less attention to begin with – I am not saying they are less important, though.
Thus, hoteliers have increased their response rate to 1-start reviews (by 4%), whereas the previous report had shown a decrease in this specific category.
The report goes on to show slight variations between hotel categories, ranging from budget hotels to luxury, as well as regional differences across the globe. Lots of valuable information, not just for hotel marketers but for any travel marketing practitioner interested about this topic.