This is the second in a series of "Social Media Best Practices in Travel" posts to be published on this blog. Today, we focus on Twitter!
Twitter is a key player in the social media revolution, even though many travel industry players are still reluctant to jump onboard, in particular smaller companies, inns and tour & travel organizations.
The platform has a language of its own and is considered by some as very oriented towards influencers, media or celebrities, but not necessarily accessible to the general public. In many ways, that is true, but it also depends who you target audience is and how best to reach them. After all, consider that:
There are more than 1 billion accounts on Twitter… yet over 40% have never published a single tweet!
The more important stat to focus on: there are 255 million active users on Twitter.
78% of active users access the platform via a mobile device, which represents 198 million active users on mobile.
39% of active users are daily users. In other words, there are more than 100 million daily users on Twitter.
If your target market are younger travelers, you should know 29% of Millenials (age 13-34) use Twitter, and it's considered the preferred social network by 26% of teenagers!
Moving beyond tweets alone and less-than-140-characters messaging, Twitter has embraced the potential of photo and video sharing, recently allowing for multiple photo-sharing, tagging people in pictures and giving its platform a (Facebook-like) makeover.
For more on this, read also 5 tips for your new Twitter profile.
5 TIPS FOR TRAVEL & HOSPITALITY
Customer service

In the travel marketing realm, Twitter has gained a strong foothold as the quick, go-to network for real-time interactions with customers. Hotels and airlines are amongst the most avid users, as they understood it's the most efficient tool to reach travelers on the move, in particular business travelers, influencers or journalists.
In fact, there are now over 200 active airlines on Twitter, with KLM perhaps leading the way with its innovative tactics and Twitter account showing expected waiting time for a reply!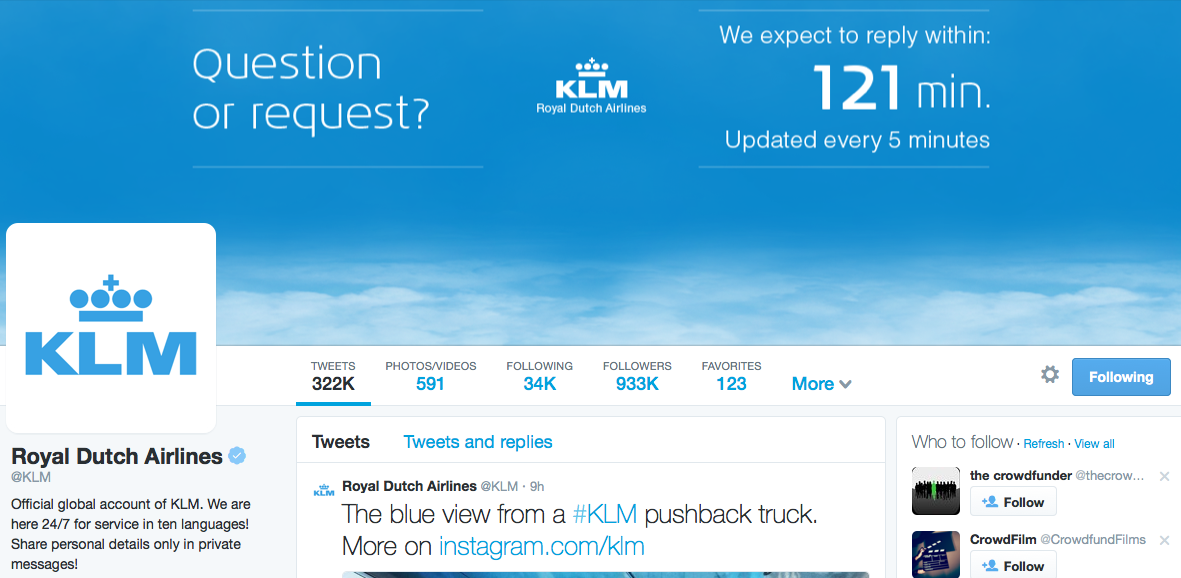 But it's not just big airlines that could and should use Twitter for customer service purposes, as can be seen in these following examples: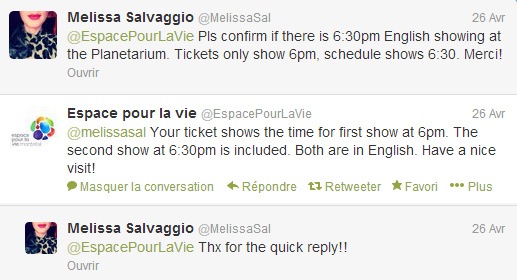 I personally like how the community manager of Osheaga Festival (in Montreal) replied to a fan before the artist ever got a chance to:
Fostering a loyal community
It is often said that brands on social media should be more human, more authentic, in order to connect with travelers. In the travel sphere, this is particularly true as brands should generally follow the 4-1-1 rule: for every self-promotional tweet, you should respond to at least one tweet, and share or interact with four others. Here a couple of good examples of brands that get it:
Groupe Germain Hotels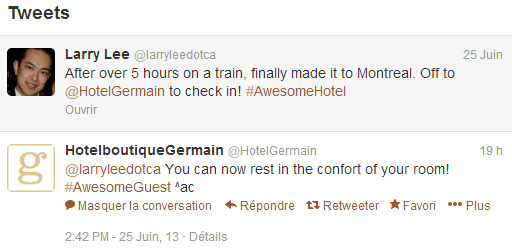 Vieux-Port Steakhouse Restaurant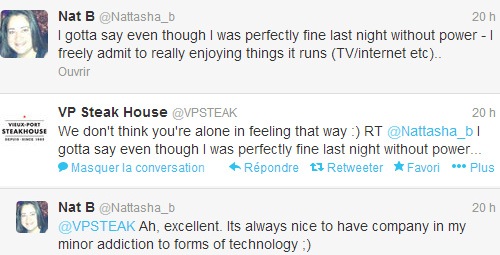 There are countless examples out there but the important thing here is to remember to stay conversational, with a tone and manner that is unique and distinctive to your brand, both offline and online.
Company brand & HR
Did you know tourism & travel employs 1 out of every 10 worker on the planet? From attractions to festivals, restaurants to hotels, destinations to transportation, attractions and events, not to mention travel agents and tour operators, it's sometimes a challenge to find and retain quality employees in an industry that sees high turnover.
In particular for businesses that have seasonal peaks, often counting on student workforce to help out. In this context, having a strong brand encompasses having an online strategy, and not just on Linkedin or Facebook. There are a few savvy brands that maximize their presence on Twitter for recruiting as well, with a dedicated account for jobs and careers.
Generate buzz, leads and sales
Because of its real-time nature, Twitter is a great network to help building buzz prior to an upcoming event as well as during. Many destinations, conferences and events will work around a given hashtag to ensure there is a dynamic conversation taking place, which can in turn lead to opportunities, sales leads and cross-selling situations.
The important thing is for brands to listen, through tools such as Hootsuite or other social media dashboards. Make sure you identify the proper hashtags and keywords relevant to your brand, but also competitors and industry.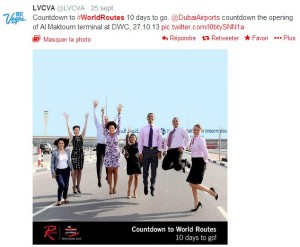 In the example above, Las Vegas CVB is building up hype prior to the #WorldRoutes event. In this next example, Fairmont Hotels use Twitter as media to advertise an ongoing promotion.
Notice how the original post from the Fairmont Southampton gets retweeted by Fairmont Hotels (headquarter) and then by GeoTravellers: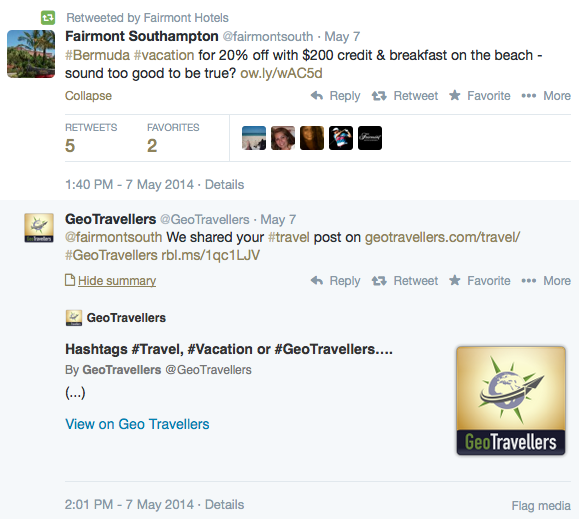 Yet one of my favorite examples comes from a destination, Travel Wisconsin, that created a contest and used Promoted Tweets in order to build some hype around it.
This initiative not only helped getting over 10,000 entries in the contest, it also helped increase awareness for the destination while getting more traffic to the destination website – 19% of referral traffic was attributed to this campaign alone.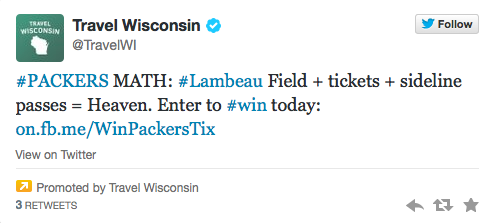 Personal vs. Brand accounts
Should travel brands employees post as individuals, as employees, or mix of both? There is no clear-cut answer to this one. For most travel brands, a dedicated person looks after the account, or a team of people signing off with their initials.
That's the case for the Canadian Tourism Commission, for example: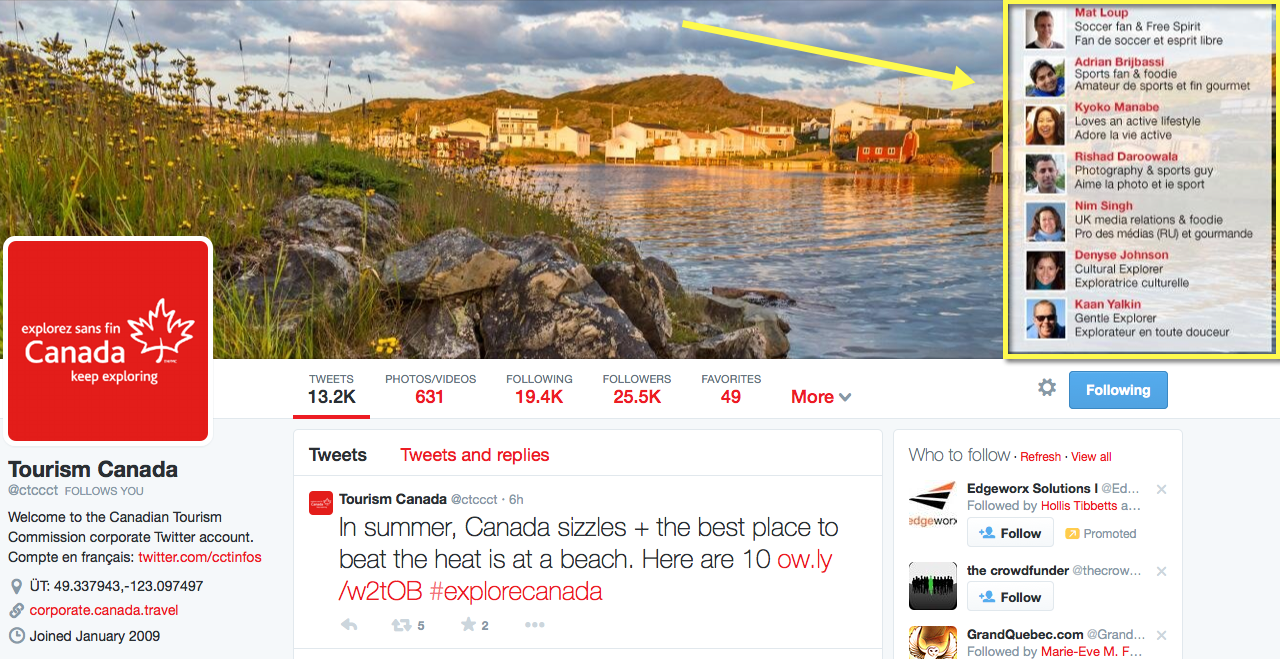 In a destination such as Montreal, in the province of Quebec (Canada), employees are encouraged to be active on social media. Proper and ongoing training is provided as required, and a social media policy has been put in place, ensuring employees can act as ambassadors for the brand and the destination. Notice how many will add MTL to their handle: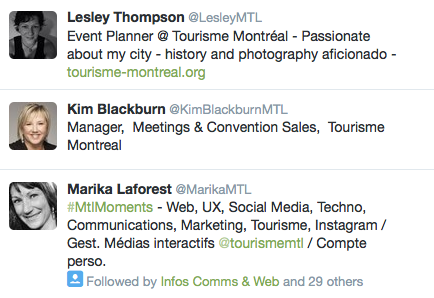 And then, of course, there are initiatives such as Visit Sweden, giving away complete control of its @sweden handle to a different Swede every week, every since 2011. A great way to have real people talk about their destination, their home, their way of life.
HOW TO POST ON TWITTER
The infographic below does a great job of summarizing the do's and don'ts of posting on Twitter for brands, not just in the travel sphere but in general. Make sure to tweet this or better yet, pin it to your board! (What, you're not on Pinterest? Read this for more on Pinterest in the travel industry)