It's really interesting to see how the Pokémon Go phenomenon has become a worldwide hit, with obvious potential in the travel marketing and tourism sphere. Many destinations were quick to embrace it, writing blog posts about 10 Pokémon Go activities to discover Montréal with the family, Best Places for Pokémon Go in Anaheim, Pokémon Go in Portland, or even the San Diego Guide to Pokémon Go – Catch Them All!
Pokemon Go Craze
Some attractions, like museums or specialty retail stores, various restaurants, festival and events have also jumped onboard seeking to ride the wave of this popular and widespread new mobile application mixing virtual with real-life gaming.
We have two #PokemonGo Poké Stops at the museum! Or should we say Mew-seum? Learn more: https://t.co/niHH6Y9qI9 pic.twitter.com/QFvoIzihBw

— Museum of Modern Art (@MuseumModernArt) July 13, 2016
Now I can just imagine some of the discussions taking place in various attractions, restaurants, hotels and travel brand offices: "How can we tap into this new opportunity?" is the most probable question. Some are perhaps more adamant, with a "Can we get a PokéStop near or at our business? Or maybe lure users with some of the paid features within the game".
To that I say: back up the truck, for a moment. The focus, as always, should not be on the shiny new toy – in this case Pokémon Go – but rather on people that make up your target audience, and how to reach them best.
Facebook, Snapchat… and now Pokémon Go
It happens all the time when a new communication tool or device springs to life. In fact, this is exactly what happened when emails became a commonly accepted way of communicating, when websites became easier to program with open-source solutions like WordPress, and more recently in the past few years with social media and mobile applications.
I still hear this all the time:
We gotta have a mobile application, because customers are mobile now and our competition has a mobile app. (Sure, but are YOUR customers mobile and if so, do they prefer mobile browsing versus mobile apps? Is your website even mobile optimized to begin with?)
We want to invest on Google AdWords campaigns because we are in a very competitive environment. (Sure, but before you invest in some search engine marketing, how about a little bit of search engine optimization, ensuring content is relevant and can be found, with proper coding and texts in meta descriptions, titles and image captions?)
We wish to spend more on Facebook Ads, since apparently they work and cost less than AdWords or other online tactics. (Sure, Facebook Ads work alright. But what exactly is the role of your Facebook page in your online strategy? To drive traffic to your website or to generate conversation, buzz and brand awareness with a vibrant community? In the latter case, investing in more dynamic community management approach might yield better results than simply creating ads with no purpose)
Everyone is talking about Snapchat and how we should be using it to connect with Millenials. How can we put a strategy in place to be effective on this platform? (Indeed, Snapchat is still very strong with Millenials, with 70% of its user base aged under 30 years old. But this is changing as adoption is becoming widespread and more and more parents – and marketers – are joining. But are Millenials part of your target audience? If so, are you already reaching them effectively, responding to questions or comments on your other social media like Facebook and Twitter, and answering reviews on TripAdvisor, Yelp or Gogobot?)
In other words, we keep going after the new trending technology or platform in the hopes that it will help our business generate more traffic and sales, create buzz and set us apart from the competition. But we often forget the basics. A classic case of the Shiny New Toy Syndrome (or SNTS).
Shiny New Toy Syndrome
You know what SNTS is, right? You know, when a kid receives a new toy, it's all the glory and he or she will want to play with it day and night, call friends to play with it and so on. Give it a week or two, the novelty wears off and eventually the toy loses its appeal and falls into oblivion.
Unless the toy addresses a real need or desire, that is. The basics.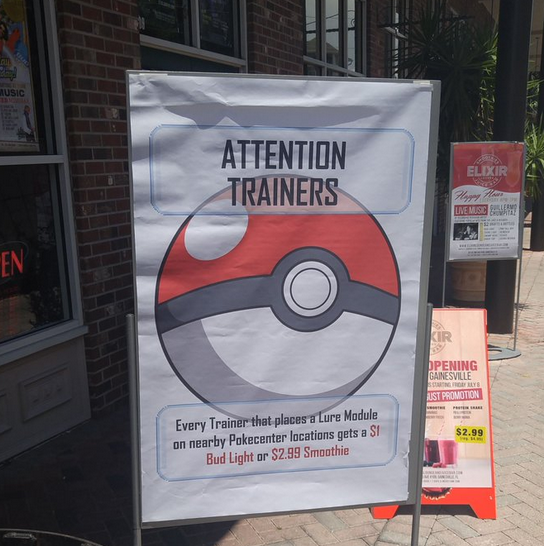 So the point here is to make sure that whenever a brand considers a new platform or technology, that it knows WHY it wants to be there and make use of it. And before starting any initiative, there needs to be a minimum of knowledge for how things work.
Do you know how Pokémon Go actually functions and how to get a PokéStop for your business (you can't, for now at least)? Have you downloaded Snapchat and tried it out with friends and colleagues to get a sense of how conversations take place here versus Instagram, Facebook or Whatsapp?
Back to basics
In essence, it boils down to the basics of all marketing initiatives, including online and mobile:
Have a strategy in place, with clear objectives to reach and key performance indicators
Identify target audiences, and then where there are most likely to be reached
Prioritize online tactics, according to resources, both human and financial. You can't be effective on every platform with limited resources.
I wrote the following post three years ago but I believe it still rings true today: The Holy Trinity of Digital Travel Marketing. Once you have that trinity covered well, then sure, go ahead and do some trial and error with new mobile apps and solutions. Just don't do it the other way around. That would be a clear case of SNTS in action… 😉