In the past two weeks, I was fortunate enough to attend very interesting events. First, I was in Seattle, invited by Expedia Group for their annual Explore Connect gathering, loaded with insightful keynotes and discussions. Then last week I was in Montreal (Canada) for the Virtuoso Symposium, where the main emphasis was on the state of luxury travel. Both events were at human scale, with approximately 400 participants each. And both events shared an underlying common thread, a topic about the sweep the industry: ChatGPT and artificial intelligence (AI).
I recently wrote an article about how generative AI is transforming travel marketing. And while many would agree that this new technology shall be disruptive indeed, nowhere is this clearer than when looking at the traditional path to purchase. And in particular, looking at the first stage of this path: search.
Search will change fundamentally
This thought occured to me while Expedia folks were sharing a sneak peak of an upcoming report, due for publication this summer. In the past decade, Expedia Media Solutions have released different reports, analyzing the path to purchase for travelers. I wrote about their latest report, which came out in 2016: How The Path to Purchase Varies in Canada, USA & UK. Thus, this new and long awaited report would surely take into account how things have changed between 2016 and 2023, right?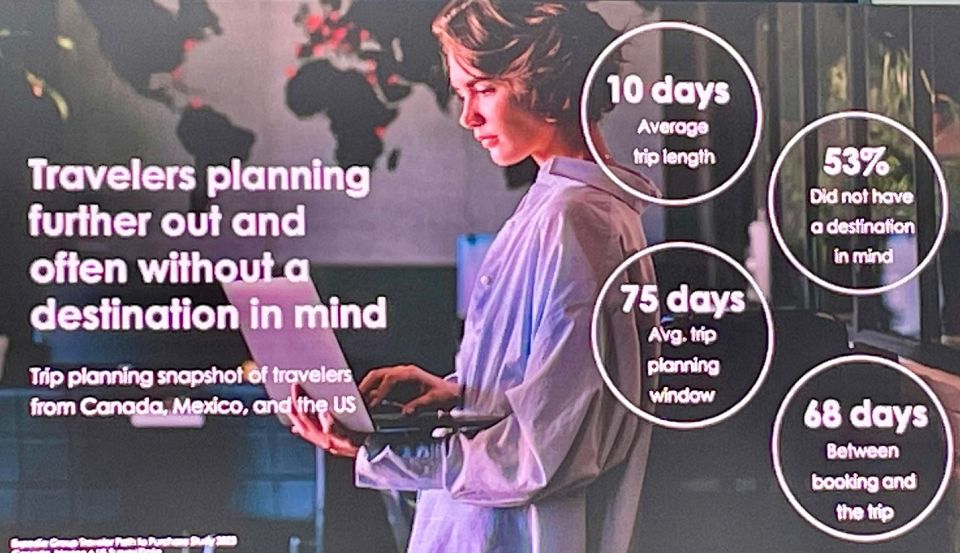 This report focused on the traditional path to purchase which traditionnally goes through five clear stages:
Inspiration (Dreaming)
Planning & Research
Booking
Visiting (Experiencing)
Post-travel (Sharing)
At every stage, it's interesting to see how different platforms play out different roles. YouTube, DMO sites and social media play a more important role at the inspiration stage than OTAs or review sites, for example. However, OTAs will be more prominent during the planning and booking stages.
However, search engines remain a key component in the path to purchase in travel and hospitality. And with new tools like ChatGPT or Google's Bard now entering mainstream adoption, things are about to change quite drastically.
No more thousands of results
Let's say you were contemplating a trip to New York with your kids for a long weekend. A typical search in Google would yield thousands of places to stay, thousands of listings for things to do, and thousands of potential restaurants to choose from. It's what we're used to and we make do with this process. But it's not really the most efficient process, to say the least, wouldn't you agree?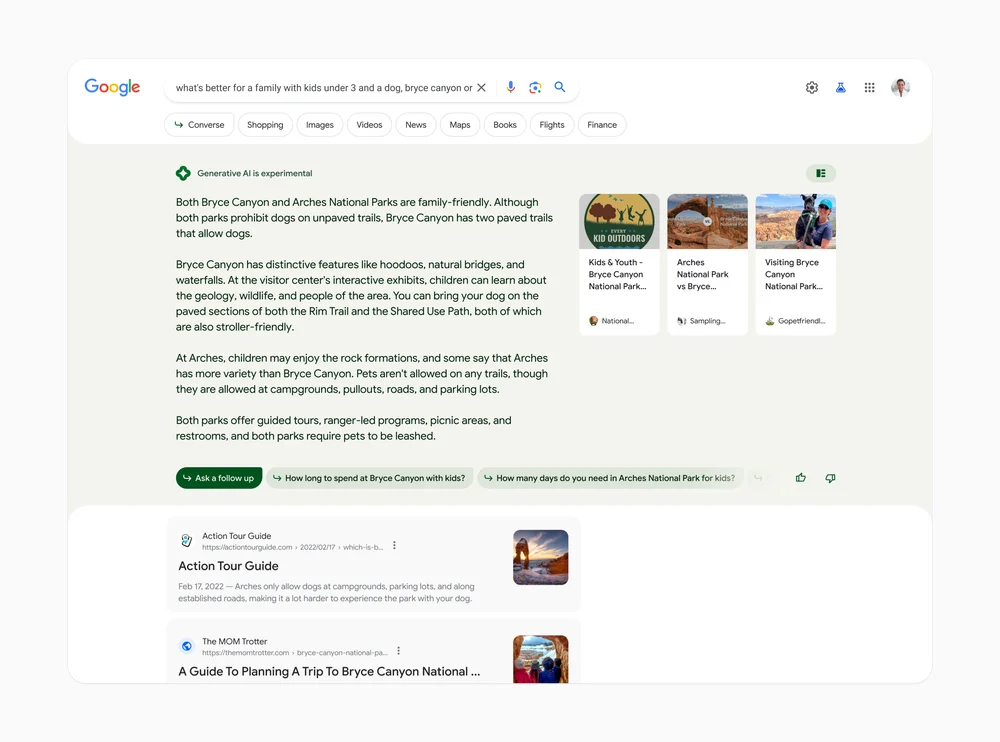 But take a look at the example Google used in their recent announcement, boasting how generative AI will improve search. It's a clear use case for travel, where a customer is wondering where to go with kids under 3 and a dog, hesitating between Bryce Canyon and Arches National Parks. Once people get familiar with this type of search, there will be no turning back to old days with endless lists of links to click on…
What impact for travel marketers?
Does this mean the end of SEO or even perhaos the end of social media as we know it? Of course not. But it certainly means a disruptive technique and process that should make us reconsider how we develop content and how we make this content accessible to our target audiences.
To illustrate this, allow me to share a story heard from a colleague in France last month. A single mother was wondering where to go for a long weekend with her 12 year-old boy. She asked ChatGPT and was suggested to head for Alsace, a French region on the border of Germany. This was not a choice she had in mind, but decided to go with the flow. She then asked for an itinerary for things to do over a weekend with a 12 year-old boy.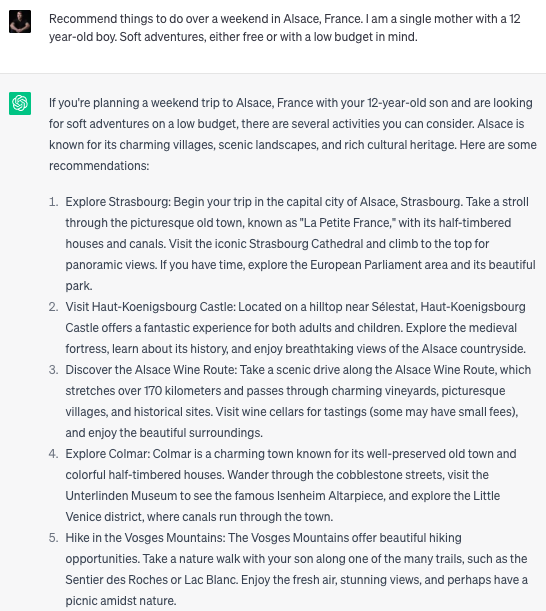 While we have heard many stories of errors, or hallucinations, in answers given by some of these generative AI tools, the information is in general very useful and pertinent. Indeed, it does require human vetting in some instances – for example, in the recommendations above, there is a visit on the Alsace Wine Route… not sure how this applies with a 12 year-old, eh?. But these tools remain nevertheless extremely powerful. In this case, the woman had a delightful trip to Alsace and her story was relayed in many travel organizations in France and Europe.
What's next?
Will travel advisors disappear because of this technology? It's a good question, and was asked during a panel during the Virtuoso Symposium. The short answer? No, but… Just like OTAs and online resources democratized travel and made it easy for everybody to book travel themselves, many travel agencies closed during the past two decades. However, other agencies remain and strive, and this is particularly true in the luxury niche, where customers prefer to have experts to look after their wealth, health… and travel plans, too!
Customers will nevertheless be using these new tools and be even more savvy than ever when it comes to choosing their next travel experience. How will DMOs, OTAs, hotels, restaurants, cruise lines and other attractions react to this new tidal wave? It is still too early to tell. But as Expedia integrating the ChatGPT API within its mobile application, most players should start looking at the possibilities and figure out how to get content uploaded within generative AI tools. This train is already in motion… it's now time to figure out how to best jump onboard!