The iPhone was launched in 2007, less than seven years ago, yet we tend to forget how life was 'before' the advent of smartphones. Social media has flipped the power from brands to travelers, with review sites now common and influential in the decision-making process.
Not to mention everyday access to increasing amounts of content and services now accessible via tablets and smartphones 24/7, anywhere in the world. So how are hotels embracing the change?
MCD recently published the results from a research conducted with 1,000 US travelers, last November 2013. Travelers were evenly segmented as per three types: business, leisure, and family. All respondents had stayed in hotels in the previous months, and owned a smartphone.
Some of the findings make intuitive sense while others may seem surprising.
One of the most popular mobile features remains access to maps of the area, in particuler for 83% of family travelers;
71% of business travelers tend to appreciate more smartphone features such as the ability to pay their hotel bill, order in-room service and amenities, arrange for transportation or even use the phone as room key!
68% of total travelers wish to see concierge tips about the place they visit. No wonder we're seeing initiatives such as Four Seasons Pin.Pack.Go on Pinterest, or Ritz Carlton concierge tips on Foursquare.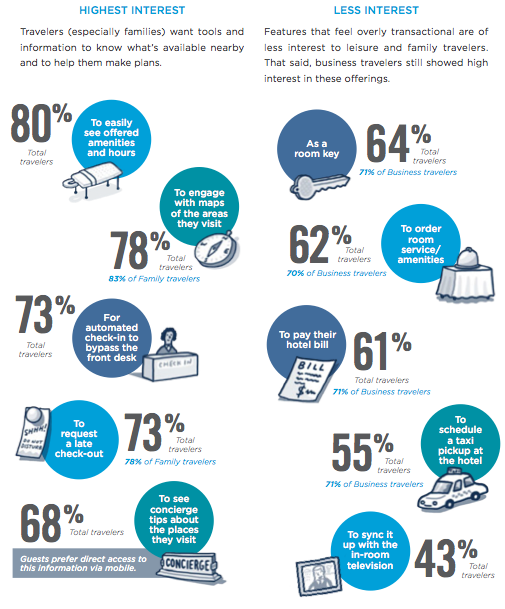 I am particularly surprised to see the lowest percentage given to the ability to sync a smartphone with in-room television. In this day and age, doesn't it make more sense to tap into your Netflix account while staying at the hotel, watch House of Cards or a movie, rather than pay 14.95$ for a blockbuster?
I guess travelers have yet to fully embrace this potential and, it must be said, it's not always simple to sync a mobile device with some of the television screens in many hotel properties.
CAN DIGITAL DRIVE LOYALTY?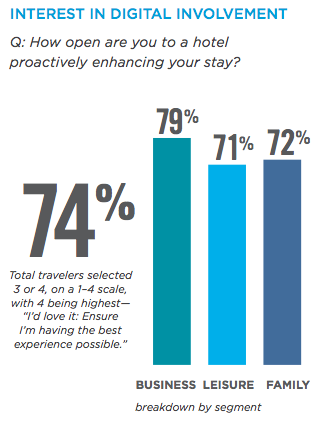 Personalization is the holy grail of customer service, and this is particularly true in the hospitality world where hotels have been competing for years with various loyalty programs based on customer data.
So it's no surprise here to find that 74% of all travelers surveyed were open to having hotels proactively enhancing their stay, a number that reaches 79% for business travelers.
A good example that springs to mind is when the Palms Hotel in Vegas decides to upgrade a traveler based on their Klout score, upon checking in or being active on social media.
But more importantly perhaps, 80% of travelers surveyed showed significant interest in being able to set preferences on their mobile devices, rather than having hotels doing it for them.
This goes from indicating lower or higher floor preference, dietary needs, near or far from the elevator, type of pillow or wines stocked in the mini-bar, billing preferences, newspaper delivery, etc.
In fact, for loyal travelers, this percentage actually reaches 87%, wanting to adjust their own personal settings when returning to their favorite hotel.
This all essentially boils down to how hotels and hospitality players take advantage of Big Data. How can they ensure that customer information is made actionable through hotel systems, delivering tangible benefits to travelers before, during and after their hotel stays.
Read also: Big Data in Tourism & Hospitality: 4 Key Components