The folks at Hotels.com recently released their 8th annual Hotel Price Index report for the year 2011, comparing Canada-wise results versus 2010. Lots of good nuggets of information if you work in, or are interested in the hospitality industry. For a complete read, click here to download the report.
It's interesting to look at these stats as they present a refreshing and different perspective than what we may be used to when looking at Canadian Tourism Commission reports, simply because the CTC understandably reports performances from identified key markets and emerging markets.
For instance, this chart on markets that showed the biggest increases year over year: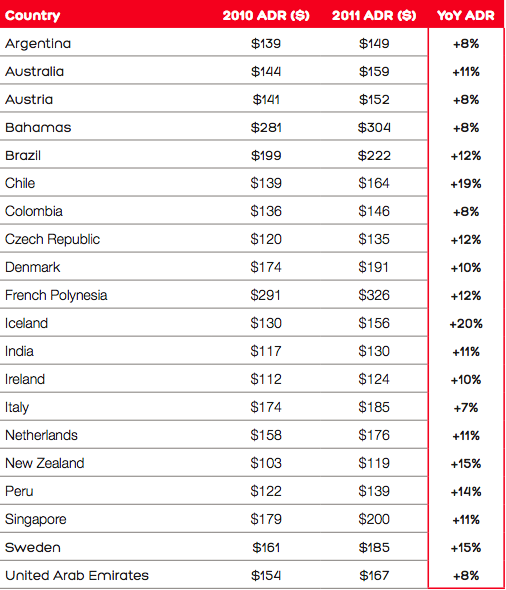 How Canada compares
Of course, if we were to cross-refer these increases with the actual amount of travelers coming from these countries, we would see small figures as only Australia is considered a primary market to Canada among this list of countries.
Does this mean we ought to pay more attention to other emerging countries, such as Brazil and India? This is already part of the CTC strategy, since both countries have critical mass and potential along with airlines capacity in place, or in development to and from Canada.
Still, it's interesting to see the positive results from Ireland, New Zealand, Netherlands and Italy, countries where the Canadian industry was once much more active less than a decade ago.
Key stats for 2011
The average hotel room rate saw a 3% increase across Canada, with substantial differences by regions and types of lodging, i.e. urban vs resorts. The average hotel room rate went up 4% worldwide.
Markets on the rise include North America, Europe, Middle east and the Pacific Rim;
Markets in decline included Asia, the Caribbean et Latin America;
Despite of the general increase in rates, levels are still under those found in 2005 worldwide!
Canadians continue to flock South of the border as American destination now hold eight spots out of the top 10 of international destination sought after by Canadians;
New York remains No. 1 of international destinations, followed by Las Vegas and Chicago, which jumped from 10th place in 2011 to 3rd in this most recent study;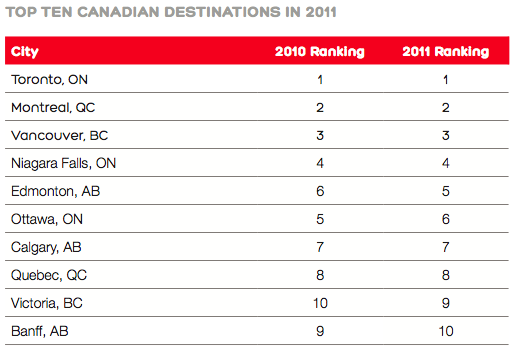 Toronto, Montreal and Vancouver still rank as the top 3 destinations, both for Canadian and international tourists;
Resorts rank amongst the most expensive Canadian cities to travel to, including Lake Louise, Blue Mountains and Tremblant.
Looking at the top 10 least expensive Canadian cities to travel to, three first positions are held by positions Cambridge (Ontario), Campbell River (BC) and Welland (Ontario). No city from the province of Quebec made this top 10, oddly enough;
Positive relationship between hotel digital savvy, year-over year REVPAR and company stock price
In a different report, this one from L2 Think Tank and their annual Digital Index IQ: Hotels, it was found that sites that feature user reviews lose 38% less traffic to Online Travel Agencies (OTAs) and that sites with local, curated content enjoyed 16% greater time spent on site.
Out of 52 hotels studied, only 3 companies lander the much-coveted "Genius" status, meaning a stellar and integrated approach of mobile, social media, brand site and digital marketing: Four Seasons, Hilton and Marriott.
Emerging social networks
The important take-away is that hotels who invest in a digital strategy drive more traffic to their own web sites, thus by-passing the third-party OTAs and driving better profitability overall.
It's particularly interesting to see how hoteliers worldwide have embraced social media as a key tool in their marketing mix, as can be seen in the chart below:
SOCIAL MEDIA STRATEGIES
% of Brands on the following Platforms: (2011 vs. 2012)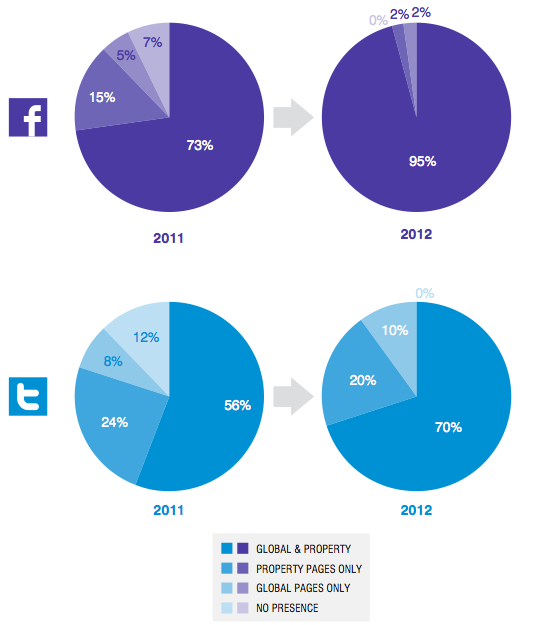 Source: Think Tank, Digital IQ Index: Hotels. March 2012
Also worth noting is how quickly hoteliers have embraced emerging platforms such as Google+, Foursquare, Instagram and Pinterest. Clearly, hotel marketers realize the power of visuals and location-based applications to enhance the customer experience and brand positioning online.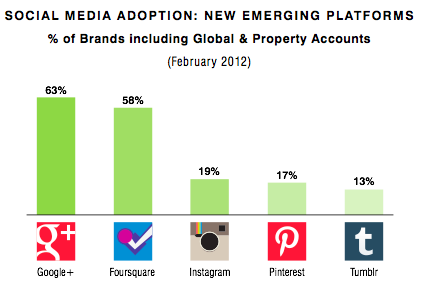 Source: Think Tank, Digital IQ Index: Hotels. March 2012