On October 18th, I had the pleasure of delivering the opening keynote at the very first edition of the Texas Travel Idea Fest, in Arlington, TX. Titled "Influencer Marketing: How Travel Brands and Content Creators Can Make Use of The Opportunity", my one-hour presentation stirred lots of questions, comments and discussions that segued into following panels and working sessions throughout the day!
Interested in this topic? Check out our webinar Influencer Marketing Best Practices.
The folks from Visit DFW, who organized this fabulous conference, used Sli.do during the event so participants could ask questions and upvote most popular ones, to speakers. While I was able to answer some, I could not get through them all in the limited time allowed for Q&A.
So I thought I would make a post with this content, since I believe these are pretty universal questions that I get often asked whenever I speak on this topic.
So here it goes!
What is the ideal number of posts to make (by platform) per week to avoid alienating followers?
The classic answer by a consultant would be: it depends! But honestly, it really does depend on numerous factors, such as your industry, your business, access to content, resources to manage your social media presence, etc. The key word here is: pertinence.
If you have great content, aspirational images and inspirational stories, you can probably get away with more content than others with scarce access to quality content. So long as your followers see the value in your content and engage with it, that's how you can evaluate if it resonates and is thus considered pertinent.
Having said all that, there are basic rules of thumb that exist out there, so here they are for 2019:
Facebook: Hubspot recommends posting on average 3x per week, minimum once per week, and no more than once per day.
Twitter: Up to 10 tweets per day is supposedly OK, unless you are in the White House. Then, you can pretty much tweet as you damn please! 😉
Pinterest: Similar to Twitter, anywhere between 3 to 30 pins per day is OK. Not much risk of alienating your followers here, specially if you pin across different boards.
Instagram: Posting once per day in the newsfeed is the norm, and no more than 3 times per day. If you got lots to say, Stories are the more appropriate format.
Linkedin: 2-3 times per week is good practice, and no more than once per day. Ideally posting in the morning will generate more engagement.
What are your thoughts about Influencers leveraging podcasting and YouTube to market their brand? What do you feel the future is for these two platforms?
I believe these two platforms are definitely hot and represent awesome opportunities for influencers and content creators. The whole world doesn't just revolve around Instagram, right?
According to Social Media Examiner's 2019 Industry Report, YouTube is still the number one video channel, used by 57% of marketers surveyed. In fact, 71% of marketers intend to increase their efforts on YouTube in the next year, so influencers could definitely answer a need by bridging the content creation gap.
Same can be said about podcasting, which is one of the strongest emerging platforms out there. The key word here is diversification. It's great to have lots of followers and great engagement on Instagram, but it can also be very distinctive to have a strong presence on other popular platforms such as YouTube, podcasting or even blogging.
Why shouldn't conversion be a key metric? In the end, bottom line sales are how most of us keep our jobs, in particular with bricks and mortar organizations…
Yes, conversions are super important, but they should not always be THE key metric, depending on the situation. This question was asked after I had showed this graphic, which highlighted how brands measure influencer marketing campaigns: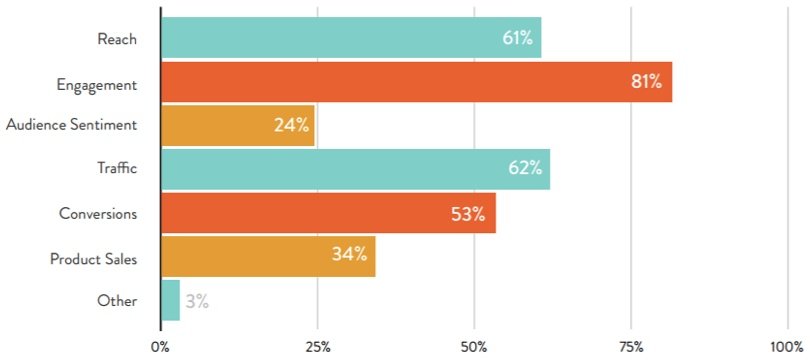 Just so we're clear: conversions is certainly a key metric that brands should follow, specially brick and mortar retailers using perhaps promo codes or affiliate marketing with influencers on given campaigns. But for a destination seeking to inspire travelers? Or a hotel wanting to craft stories building its aspirational brands? In these cases, reach and engagment may be more appropriate.
How would you use TikTok for travel brands?
I would use TikTok for travel brands the same way Vine was used back in its glory days, or how Snapchat and Instagram Stories are now being used. This platform holds great potential for visual storytelling, catering to a younger crowd; 67% of its 500M active users are under 30 year-old!
I recently saw short videos of travelers on a cruise, users shredding through powder in a ski resort, and quirky dance choreography in front of a museum. These are all examples of how travel brands could jump on the opportunity and duet with these videos for example, or create challenges with users to create funky content that resonates with a younger crowd.
If you check out the TikTok above, you will notice many users are asking this Korean girl where this video was taken, and others saying they want to go… thus, exactly the kind of content that inspires folks to travel and discover new destinations!
How do you define "engagement" ?
In social media, the standard definition for engagement is whenever you create an interaction: a like, a comment, a share. It can also be whenever you tag someone or a compagny page, when you click on a link or sometimes the mere fact you spend 3 seconds or more with your eyes on a specific piece content, i.e. a video on Facebook!
As you can see above in the chart from Linqia, engagement is the most popular metric for marketers seeking to evaluate the effectiveness of influencer campaigns.
What are your thoughts on Instagram piloting the removal of the Heart ("like") button?
This pilot has been in place here in Canada for more than six months, and the most noteworthy impact is that it forces brands and content creators to communicate with each other in order to get proper analytics, in particular post-campaign. So that's a good thing.
I believe this is a sound move by Instagram (Facebook), as it pulls us away from a vanity metric that could easily be played with fake likes and bots. Now, brands should focus on what really matters, which is location of comments on an influencer feed, nature and length of these comments, and how they relate to the brand involved in a campaign.
Facebook is the most widely used platform, as you mentioned. Do you think that there is a difference in Fb usage based on generation? I would think that Instagram would be more popular than Facebook with Millennials…
There are many studies that show this may be case. Intuitively, we believe that Facebook is out, and everyone is flocking to Instagram, specially the younger users, but we have to be careful with this impression. There are many shades of grey, as we know.

The folks at Edison have been studying U.S. consumer behaviors for the past 15 years or so and have a thorough report published every year. In its 2019 edition, we certainly find out that Facebook is losing steam (and followers), but remains the top dog!
However, we see that indeed Instagram is now #1 with this age category, with 66% of surveyed users aged 12-34 saying they are active on Instagram, compared to 62% on Facebook and Snapchat.
Still, when looking at the report we also see that for users aged over 35, Facebook remains #1, so it's important to know who is your target audience and thus invest with efforts and ads on the right platforms to reach them!
As a brand, how can you gauge the potential impact of an influencer when follower count might be misleading?
There are tools that exist out there, such as HypeAuditor, that can help you quickly find out if a given influencer has been buying followers or likes, showing sudden spikes or recent odd engagement behaviors. But you don't always need to use third-party tools.
Just check out the last 12-15 Instagram posts and see what kind of reaction the influencer is gathering. Is it just likes or comments made of LOL, emojis and one-word sentences, or rather questions and comments such as "wow, where can I see this art gallery" or "do you recommend this hotel or resort for families"?
As I mentionned during my presentation, the best way to have more insights about the influencer and his or her social media analytics… is by asking for them! Influencers that are professional and that have a rate card usually have media kits and/or testimonials, which can help travel brands gauge the potential impact when implementing a future campaign.
What's the expectation if the entire trip is paid for (flight, hotel, food, experiences) should they still get paid for posts?
This one is easy: YES.
It's perhaps the biggest difference between influencers – or content creators – and traditional media. Journalists working with traditional media are on a payroll, but this is not the case with influencers.
If you bring them out to your destination for a week, paying for flights, hotels and food is the basic minimum. These folks are not being paid while away for the 4-5 days of the trip.
So yes, there should be a negotiation in place, and a contract, to make sure each party knows what will be paid above and beyond the transportation and basic elements (accommodation, food, experiences), and what is expected in return. For example:
Number of posts, articles, stories or content to be published
Payment upfront or after travel
Rate per post, per day or package deal for the whole trip
Copyrights for repurposing this content on travel brand social platforms
Dates for publishing and other conditions
What expenses are not covered while at destination, i.e. alcoholic beverages, spouse expenses, etc.
Of course, there can be exceptions just like with anything else, but it's better to work under the assumption that you will have to pay for posts, specially when working with mid-tier, macro level influencers or celebrities.