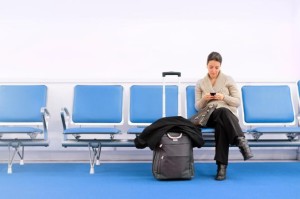 Data collected by a recent Google UK survey shows clearly that last-minute search for holidays, airfares and hotel stays is a lasting, growing trend in the United Kingdom.
More importantly, these queries are happening more and more via mobile devices. While European consumer behaviors don't always correlate with North American ones, results here echo trends and observations that the travel marketing industry needs to ponder on both sides of the Big Pond. Consider that:
33% of the total online search volume for accommodation (desktop & mobile)

came from a mobile device

during Q3 2012 (as of July 9th 2012). That's a sharp increase from the previous quarter when it had 25% in Q2 2012, and even more compared to a year earlier, when it reached 5% during Q3 2011;
Last-minute queries on mobile device for hotels and accommodations were up 79% during the January 2012 Peak compared to 2011, and up 411% during the June 2012 Peak compared to 2011.

During these same peaks, last-minute queries on desktop were down by 37% and 79% respectively

;
Similar results can be found for last-minute Holiday packages and Airfare queries, demonstrating a clear shift from desktop to mobile for last-minute queries for all categories, including hotels and accommodations.
THE NEW REALITY OF MOBILE TRAVEL
All travelers are not necessarily equal, nor do they behave in the same ways. We know for example how some business travelers become quite addicted to their mobile and electronic devices. (Interesting infographic on this, here)
Leisure and affluent travelers also showcase different online behaviors, as was highlighted in this other Google study, in conjunction with Ipsos MediaCT. (How Travelers Use Online Sources for Travel-Decision Making)
So how does this consumer trend impact the way hotels, airlines and holidaymakers behave online and make their products and services competitive in this fast-moving mobile environment? Many industry experts tell hotel marketers not to discount on mobile platforms, but how do you compete against online travel agencies (OTA) like Expedia or Orbitz that invest heavily on these platforms?