With Google and TripAdvisor now jumping into the direct booking play, hotels now seem to have even more choice when it comes down to online distribution. Or do they?
With Expedia buying everything in site – HomeAway, Travelocity, Orbitz… all during the past months – it has thus become an OTA duopoly between Expedia and Priceline groups, so perhaps there is an illusion of choice. Nevertheless, hotels are having a hard time getting customers to book direct on their website, as online travel agencies (OTA) keep increasing their market share in the online distribution landscape.
Online distribution for hotels is not always simple
In fact, here are nine interesting statistics to bear in mind when it comes to hotel & travel online distribution:
1. Despite of the mass adoption of internet, social media and media, online travel channels are estimated to represent just 45% of all travel bookings in 2015. (Source: PhoCusWright)
Thus, there is still quite a bit of business taking place over the phone, walk-ins, groups, meeting planners, or receptive tour operators that do not process reservations via online channels. Yet. So while online channels are the way of the future, it would be a mistake to think ALL hotel business comes from these channels.
2. 70% of hotel rooms supply in the U.S. come from hotel chains, leaving 30% to independent hoteliers, or 1.2 million rooms. The dependence to OTA is much deeper with independent hotels, as they represent 58% of online bookings in 2015.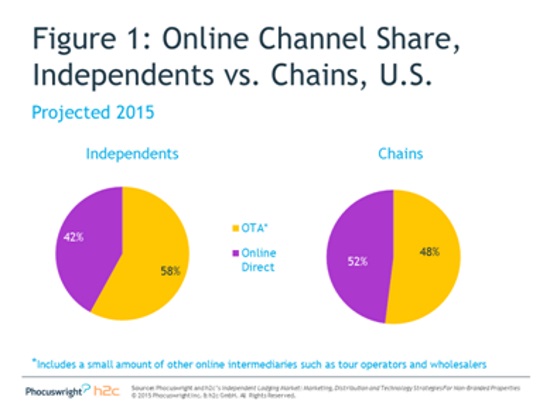 3. In Europe, the dependency to OTA is even starker, for independent hotels and chains alike. In fact, almost three quarters (74%) of independent hotel reservations comes from OTA, in particular Booking.com and Priceline, as they have a stronger foothold in Europe than Expedia.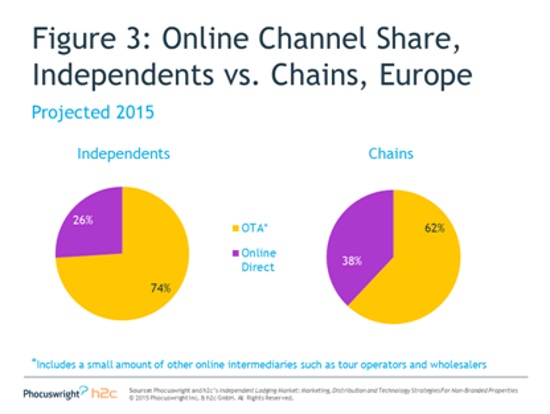 4. In Europe, hotel chains are growing three times faster than independents, even though they do not dominate the offer like in North America. Nevertheless, independent share of the lodging market is expected to decrease from 58% in 2013, to 56% in 2017.
5. The traveler's decision-making process varies between the US and the UK, when it comes to packages including an accommodation component. While in the United Kingdom consumers will average 35 visits to travel sites, in particular TripAdvisor and popular OTA sites, Americans tend to average 38 visits to travel sites, with less emphasis on TripAdvisor and perhaps more on hotels and airlines sites directly.
Read also: How Buying Travel Packages Differ: US vs UK
6. In Europe, online travel agencies will represent 71% of online gross bookings in 2015.
7. Booking.com is so strong in Europe, that nearly 9 out of 10 properties (87%) claim it to be its top producing online travel agency!
[Tweet "9 out of 10 European independent hotels (87%) say Booking.com is top producing online travel agency!"]
8. TripAdvisor ranks in second position, right after OTA, as most effective distribution partner for independent hotels. It will be interesting to see how the Instant Booking feature plays out, specially now that Priceline (and Booking.com) have come onboard!
9. Only one in two independent hotelier (50%) can count on an internet booking engine (IBE) in Europe right now, which highlights how much work still needs to be done in order to get direct bookings eventually down the road…
An infographic is worth a thousand words
For more on this, check out the infographic below produced by PhoCusWright and H2C.