As the movie character Ferris Bueller once famously said: "Life moves pretty fast. If you don't stop and look around once in a while, you could miss it".
Now I am pretty sure Ferris was not refering to the digital landscape and how marketers need to stay abreast of its fast evolution, but it is nevertheless our reality in the hotel marketing sphere, in particular for hoteliers trying to reach their target audiences online.
Online search is changing
Have you searched online for a hotel recently?
Let's take a real example. Let's say you were headed to Denver on business and had heard of this boutique hotel in Cheery Creek, the Halcyon. When searching for hotels by direct name, this is what we get: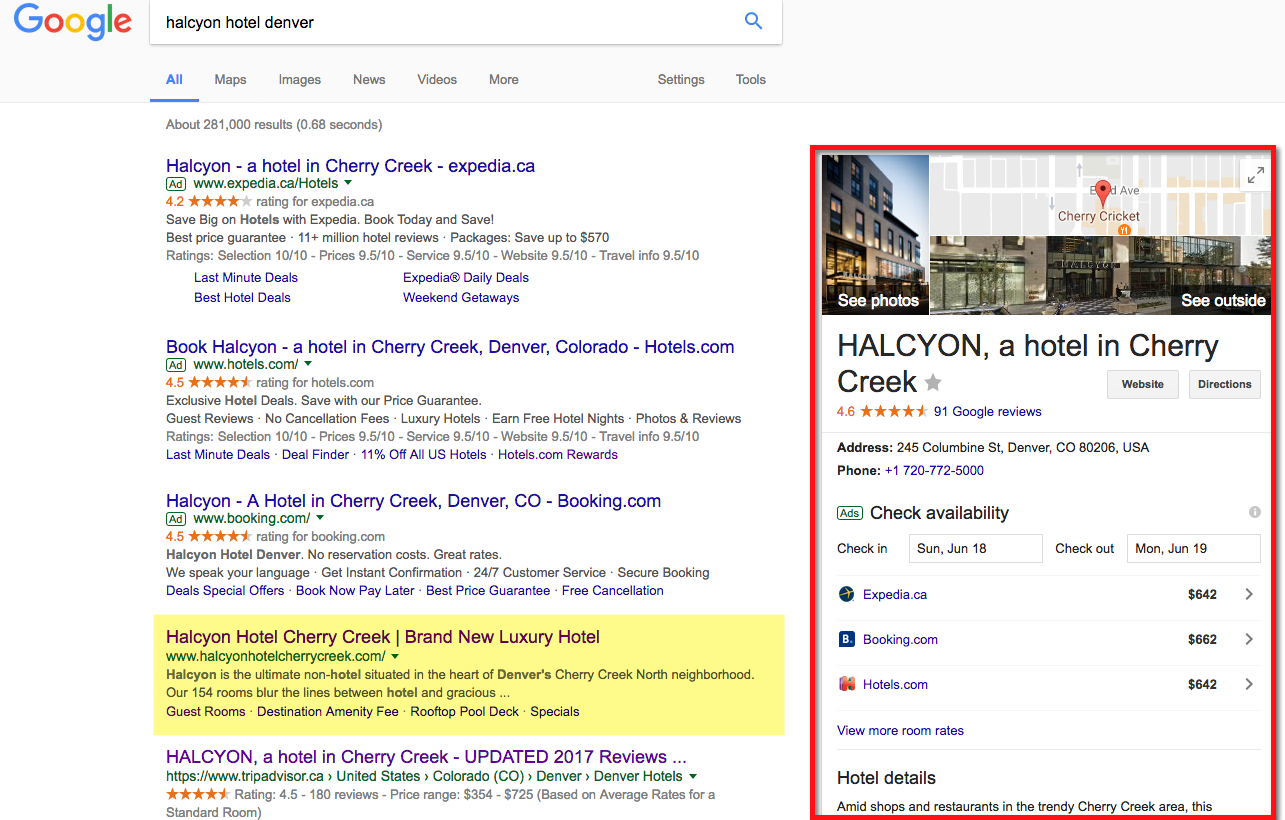 While you and I may have gotten used to this way of showing results in the past year or so, consumers are faced with a new reality, including:
Hotel feature box on the right, which highlights rates from OTA, reviews and contact details to the hotel (website, directions, etc.)
Ads are more prominent, from top to bottom, with up to 4 ads. It used to be maximum three (like in this example), and there are no longer any ads in the right column. In fact, there is no such thing as a right column anymore, except for the feature box like in this example.
Notice how organic results show up lower, in this case after the ads, just above TripAdvisor listing. Kudos to the folks at Halcyon for reaching this position, yet one assumes this to be somewhat "normal" since the search was with these terms. Imagine if it had just been "hotels in Denver"… getting to that first position is tough business!
Well, that's not so bad, right?
Hmm, did you know that back in 2013, when Google Ads were more clearly distinguished (on a slightly yellow background), 40% of UK consumers were unaware that Google AdWords were adverts!
Imagine now, as Google removed the yellowish background and replaced it by a subtle "Ad" mention to the left of the copy… (see example above)
How Search Has Evolved
Back in 2005, you may recall Google came up with its "Golden Triangle" theory, or "F-Model" stating that online consumers searched from top left to bottom left, similar to a F-shape, with eyes then zooming from top left to top right, specially whenever there were images on the screen.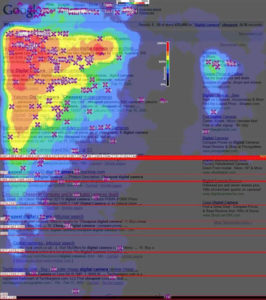 Now this concept no longer holds true, as proven by a recent study by Travel Tripper, showing that consumers search for hotels in a inverted-C shape manner.
This is what would happen with the above example search for Halcyon Hotel in Cherry Creek, but it's also what the folks at Travel Tripper did with an eye-tracking device, searching for the New Yorker hotel in NYC.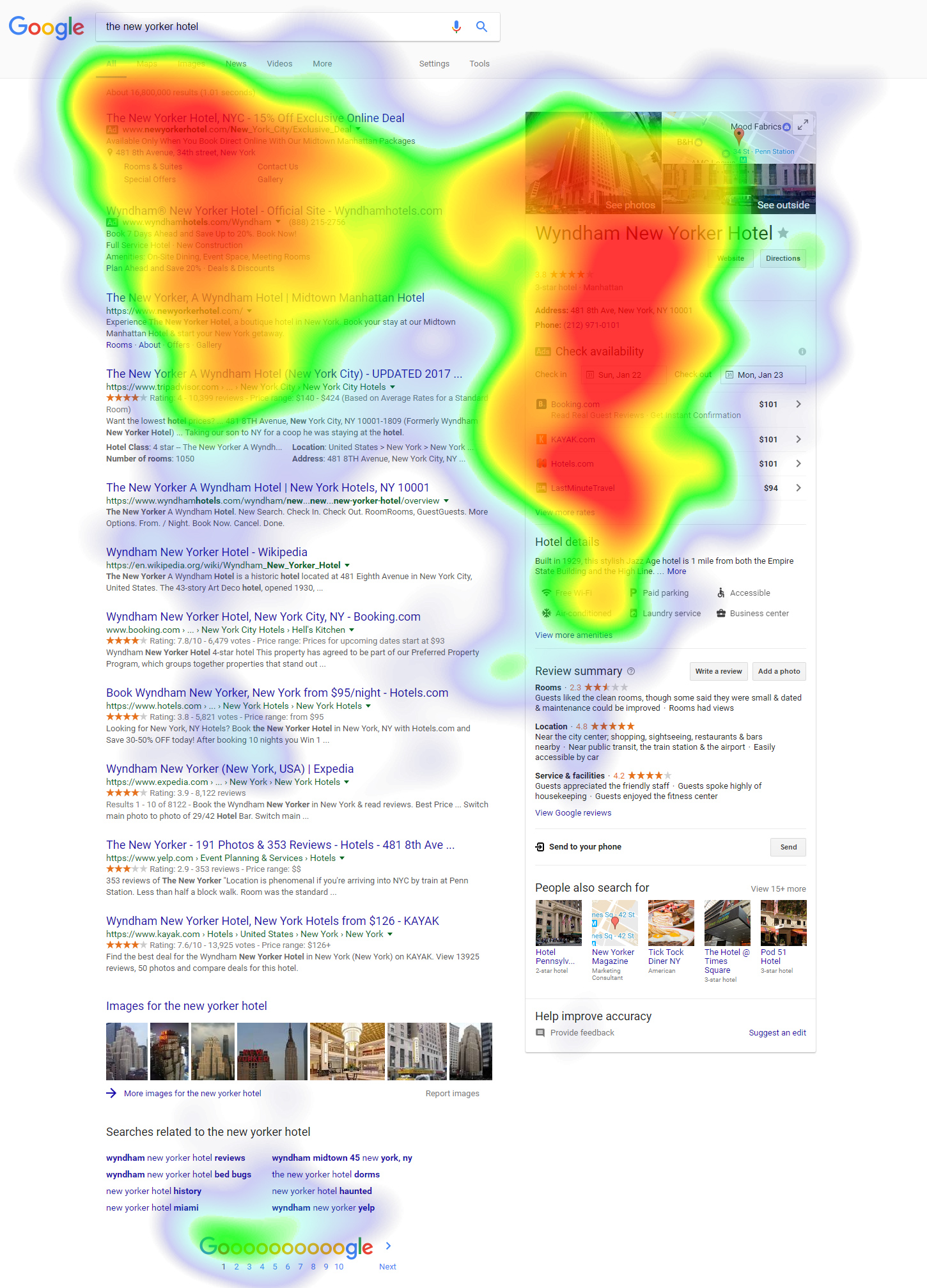 Now the missing element so far is that all screenshots shown above are for desktop searches, when we know full well that 50-60% of hotel searches nowadays derive from mobile devices, sometimes even more.
So what happens when I do my search as above, but from my smartphone?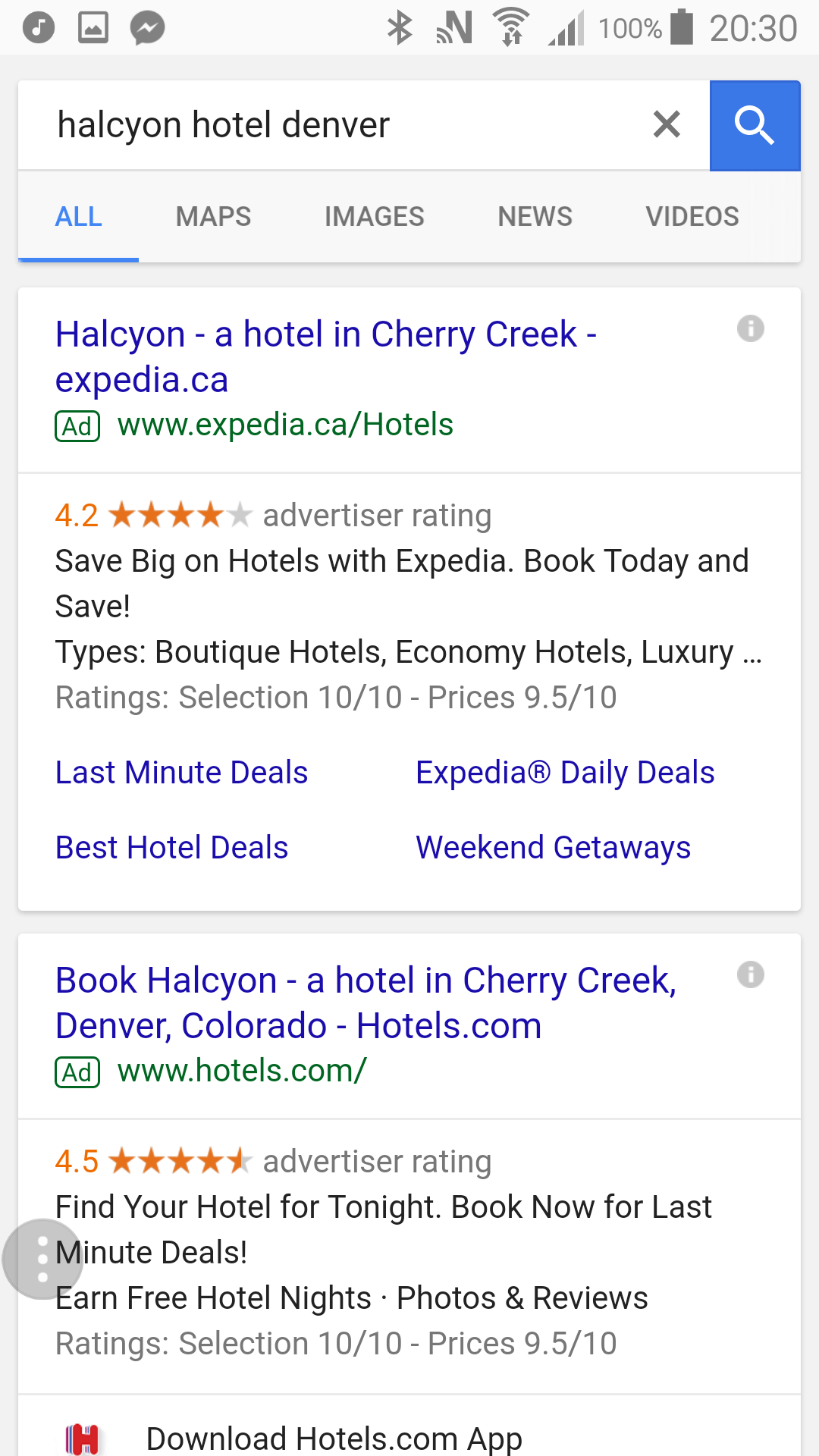 Notice there are no organic results unless I scroll down my screen. On mobile, I see the feature box once I reach the middle of my second full screen.
In other words, the best opportunities to click had already come and gone, with only paid search results showing up on my mobile screen!
Google recently confirmed it was testing new layouts for its hotel listings, highlighting reviews in a TripAdvisor-like manner, as shown in this screenshot from a SearchEngineLand article: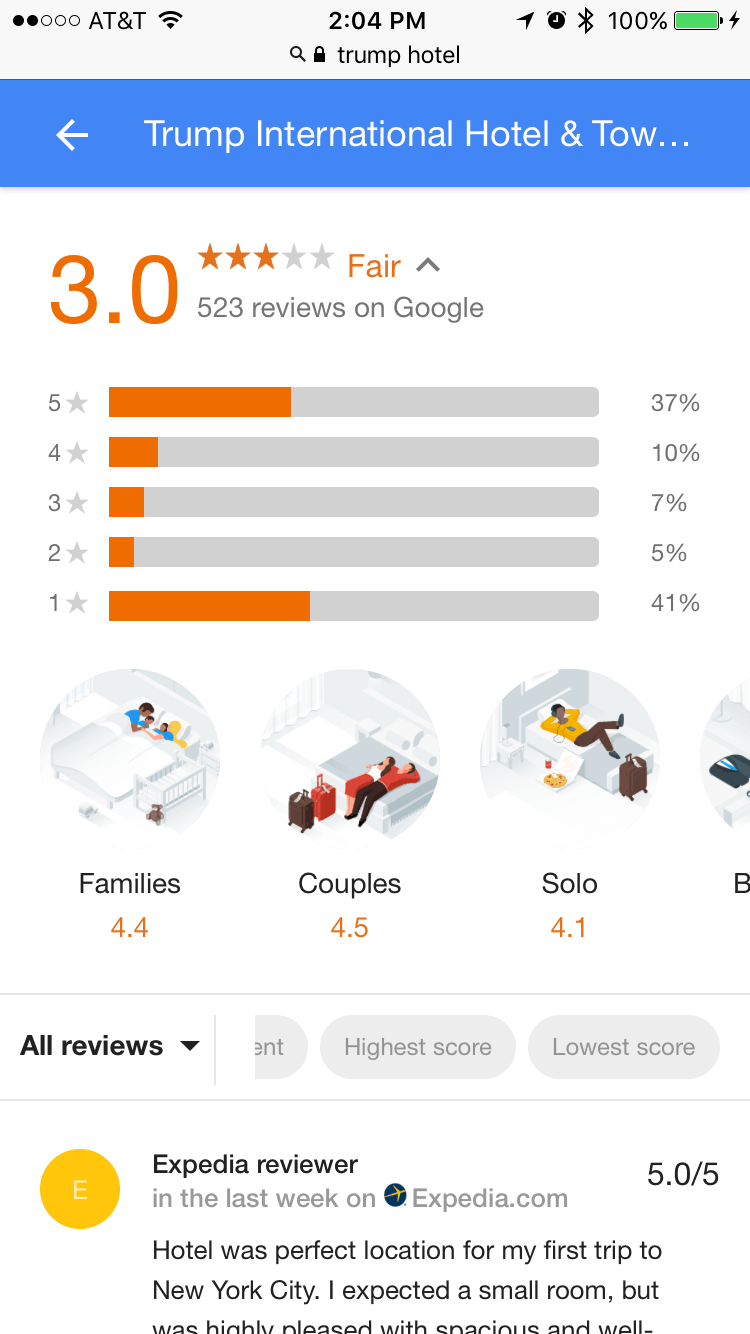 Voice Search, The Unknown New Player
If we only rely on the above mentioned elements, it paints a pretty gloomy picture (sorry!). But there are still various elements to consider that lead to believe SEO is not dead yet for hotel marketers.
People don't always search with hotel names in mind
The travel decision-making process has become a complex, multi-channel, multi-device process. Users shop around, visit numerous sites (destinations, OTAs, suppliers, hotels) and this process is not linear, nor does it happen overnight. Thus, having a strong search-engine friendly website and active social media presence will contribute to reaching potential clients at various points in their online search.
Read also: How The Travel Path To Purchase Varies in the UK, US and Canada
Voice-activated search is up and coming
Did you know that in 2017, 20% of all online search is made through a voice-assisted mechanism? From Apple's Siri to OK Google, it is estimated that voice assistance will represent 50% of all search by 2020!
Savvy marketers are already adapting to this new reality to see how their property comes up in voice-activated search results, and see how their site can better respond to these requests.
Hint: you'll want to make your website content more conversational.
Think long tail
Last but not least, it's important to have a content marketing strategy in place, generating organic and referral traffic to your website. Such as relevant articles about what to do in your city during summer festivals, popular restaurants, interviews with staff, recipes from your restaurant…
These are just a few examples of evergreen content that can always lead traffic to your website from which point it is assumed you can convert users to book a room or at least enquire about rates and availabilities.
So while SEO is not dead just yet, it remains important for hotel marketers to stay abreast of evolving trends, test out various paid tactics, and continue to invest in a robust content approach across their different digital outposts: website, blog, social media, newsletters, etc.
Save
Save
Save